A request was made by CSGV to its Facebook followers: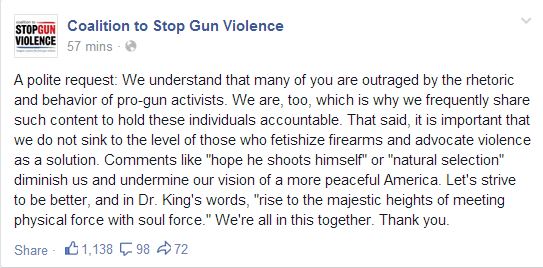 It seems that finally after several years of screwing the pooch and letting their followers do the same, somebody came along and slapped in the back of the head and told them to moderate their bull.
Unfortunately, some of the followers are less than thrilled about being censored. Funny if you think about it because CSGV has had no problem banning anybody on our side that decides to challenge them in their page.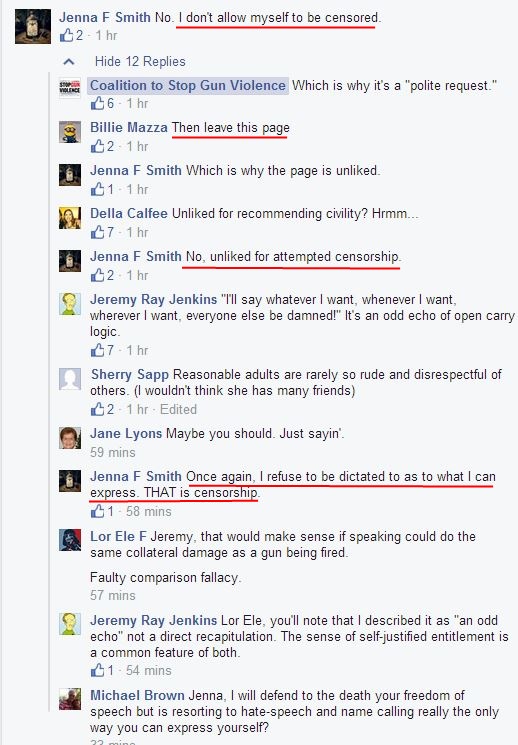 Of course, there are those who are very comfortable with censorship:

Some pointed out the contradiction of the request:

While others called them on their sensationalism:

There is no doubt that they are gearing for the upcoming elections in November.  But with their proven history of disrespect not only for the Second Amendment but also the rest of the Bill of Rights, it is gonna be hard for them to appear and innocent doves of peace and freedom as the Internet never forgets.
These were the last three comments before posting. If they are not an indication of how messed up and contradictory they are on their own, I don't know what else can be shown.