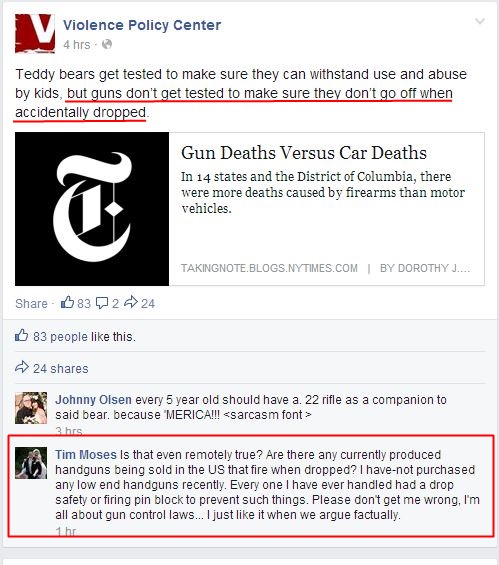 VPC once again tries to pull bring back of the Gun Control's favorite zombies. But the reality is that unless you are toting a very old revolver (or some cheap no longer in production semi auto), your sidearm will be safe enough that it may fall and not go off. Barring quality control issues, a right-out-off-the-box pistol is one of the safest tools in production.
The issue is mostly with the so-called accidental discharges one gets to read in newspapers where a dumbass tells cops "It just went off" rather than admit they were finger-frolicking the trigger of a loaded gun. And also we have people who have actually dropped a gun and instead of letting it fall all the way to the ground, instinctively reach and grab it with a finger ending up pulling the trigger.
There is one more option and that is a gun owner who fancies himself the greatest gunsmith on earth and starts to modify a gun without really knowing what he is doing or without regard for proper safety. a One Pound trigger pull might be cool in your imaginary neck of the Tactical Woods, but you are just asking for a bullet to take an unscheduled trip at the worst possible moment.
And of course there is that one place where all these myths come to happen: Hollywood.
PS:Pump shotguns by the nature of having a floating firing pin may go off if the shotgun falls on the stock or the stock gets a kick upwards. Always store a shotgun with the chamber empty.