My post on DDT being brought back to combat malaria pissed off a couple of people who complained over the Facebook page. I am clear that DDT is not without dangers, but as with everything in life, you have to figure out if the reward outweighs the risks.
I know there is a boatload of studies that "suggest" and "appear to link" or "seems to associate" DDT from low sperm count to Global Warming and cancer, but amazingly I am yet to see one that directly relates a specific amount of deaths or consequences to its use. which leads me to believe no true and sincere research has been made but just seeking to confirm Carson's book rather than clear the chaff.
But the top was this comment that left me amazed for its callousness: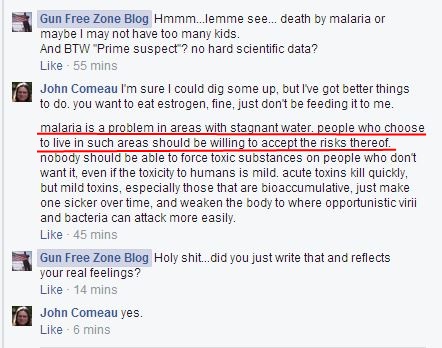 I am sure that the average people in the deep of Africa just have to make up their minds one day, call Century 21 in Kampala or ReMax Botswana and see what properties are available in Norway or Monaco.
Apparently Silent Spring must be defended no matter how many hundred of thousands of deaths a year it causes. And as for the poor people, fuck them for living in poor countries.
<smh>