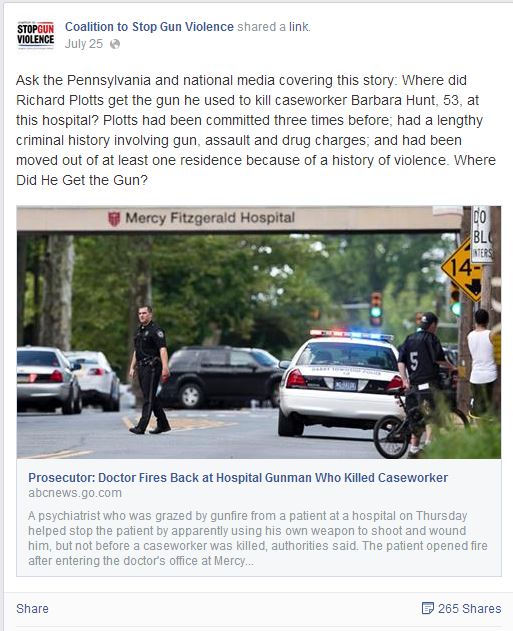 CSGV should have not touched this one if for nothing more than the comments of its followers:
Eric Martin It's just swell that doctors have to carry guns around. I know we will be hearing about this one from gun nuts for years to come, but a society in which a doctor shoots patients in his hospital is nothing to be proud of.
Marilyn Decker For the gun proponents to jump on this one would be ludicrous. That doctor's gun wasn't enough to save the caseworker. But if we had stricter gun laws, that patient wouldn't have gotten the gun in the first place. Because of weak backgroiund checks and non-enforcement of illegal straw purchases, it's too easy to get hold of a gun, whether legally or illegally.
Reia Barber the doctor had a gun because he's a Republican
Sandy Browder Ummmm, if I recall correctly the good doctor was carrying in a gun free facility…yes, he is alive possibly because of it, but he should be fired. He alone is responsible for any issues arising from it. And of course a mentally ill person absolutely should not have a gun. How did he get it? Should be interesting.
Guy L W Hardy The doctor was clearly aware of the facility's policy regarding guns. He HAD to be – with all of the publicity the issue has received over the last few years, and considering his level of responsibility in the facility, there can be no conclusion other than that HE KNEW THE POLICY. It must also be concluded that he flouted that policy for reason of his own. For purposes of the argument, he "broke the law" with regards to the hospital, and must now be punished for his transgression. It was grossly irresponsible for him to disregard facility policy—ESPECIALLY in this area—and so he should lose his job at the very least.
William Wesling Nagel Well I guess occasionally a Good Guy with a Gun actually Shoots a Bad Guy with a Gun but it sure seems to be the exception than the rule. Statistically Speaking a Good Guy with a Gun turns into a Bad Guy with a Gun and uses it on the rest of us. A Good Guy with a Gun lets it fall into Unqualified Hands or Criminal Hands and it is used against the rest of us or the Good Guy with a Gun gets depressed and uses it on himself.
Christine Stensrud I think the "war on drugs" should be changed to "war on illegal guns". The war on drugs is not working. Maybe focusing on all the illegal weapons instead of drugs should happen before the drugs. What is wrong about getting background info. You have to get one to get a job and also submit to a drug screen. If you have nothing to hide then why should you care.
We have people, allegedly members of the Human race who are basically saying that the doctor should have been a victim and that would be better than having survived  the attack. That a hospital policy (mind you a hospital, not even the law of the state) trumps the basic human right of self-defense. What sick & twisted mind chooses corpses over life?
Imagine one of these idiots in a Legislature passing laws that fit their ideologies and absolute lack of respect for your life.