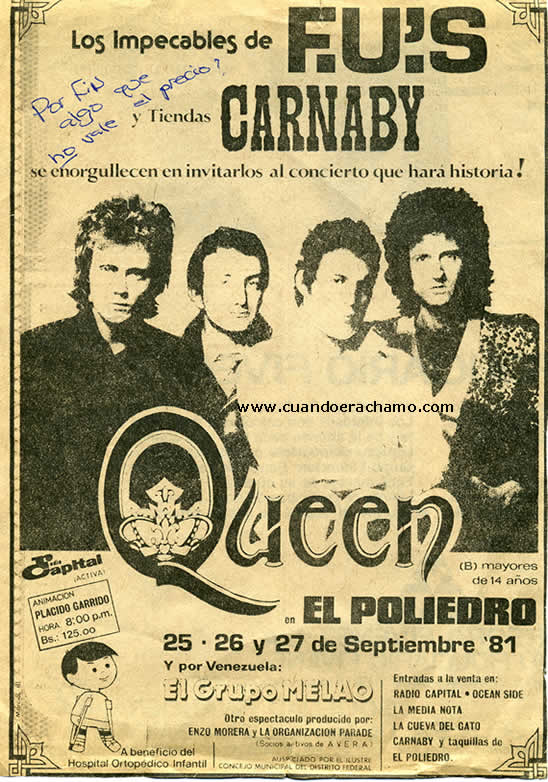 This was the best concert I have ever attended. Initially I was not going to the show as I was not a rabid fan of Queen and there were literally mobs trying to buy the tickets at the 6 locations. Basically I was the only one of my gang that was not going and that did not settle well with one of my buddies who literally came to my house on Friday 25th in the morning and dragged me out to hunt for tickets.
I went along even though I knew there were no more tickets available. Radio stations had declared the three concerts sold out and there were talks that possibly another date might be opened for Monday the 28th but nothing was for sure.
We went to a couple of places before decide on hitting Radio Capital, the station that was promoting the show. When we arrived, there were no crowd, no security and even the normal closed doors were open and unguarded. We walked in and found one office with the sign "Tickets sold here," the door was open and there were stacks of cash and the remains of the tickets books on top of a desk: They were doing the audit.
My friend asked if there was a ticket left for Sunday (the gang bought for that day) and the immediate answer was not. For some reason one of the radio execs took pity on me and told me to hang around while they finished the audit so he could give me a poster and a T-shirt as "consolation prize."
The audit was not going well. One of the book lets was missing and they could not find it. They counted over and over and they kept coming out short one so a full fledged search inside the office ensued. Finally they moved two heavy file cabinets, they found the missing booklet behind and you could see them breathing again as it would have been hard to explain to the bosses how 50 tickets were not accounted for in what was going to be the biggest concert of that year. Now it came the big surprise: the guy who found the booklet muttered something in surprise (four letter word), turned around smiling and said: "There is one ticket left here. You want it kid?"
Not being a fool and recognizing that destiny was waving its flag, I snatched the thing. That Sunday I was with several other thousands of fans absolutely amazed at the magic that was Queen live and on a stage. No concert video I saw of them after that came close to represent 1% of them on stage as it cannot tally the heart the left on stage trying to please the fans and that beat any light-laser-pyrotechnic-etc I have seen in other concerts.
So, Happy Birthday Freddie Mercury. And than you for that show.