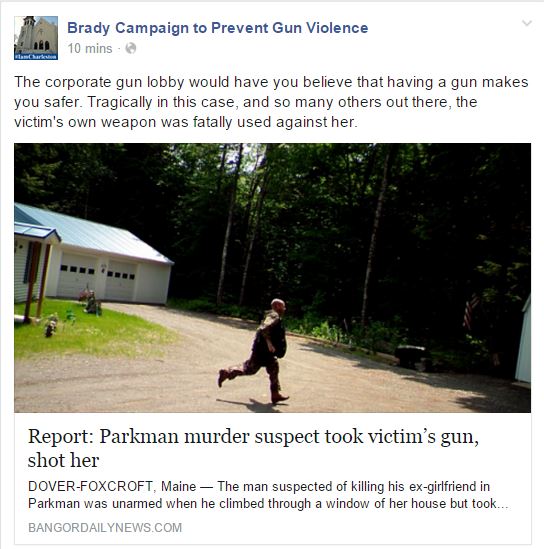 DOVER-FOXCROFT, Maine — The man suspected of killing his ex-girlfriend in Parkman was unarmed when he climbed through a window of her house but took the handgun she fired at him and shot her with it, according to a law enforcement official.
Robert Burton was wounded by Stephanie Ginn Gebo before he turned the gun on her, Piscataquis County Sheriff John Goggin told WVII TV on Thursday.Burton, 38, is wanted for murder in connection with Ginn Gebo's death. He has been the subject of an intense manhunt since her body was discovered in her home on June 5.
"As he was climbing through the window that night, his would-be victim had a handgun and she shot at him," Goggin said in the interview with the Bangor TV station. "He wasn't armed at that time. She wounded him slightly, they got in a tussle over the gun and he just lost it. He got the gun away from her and he shot her and he killed her."
Source: Report: Parkman murder suspect took victim's gun, shot her — Piscataquis — Bangor Daily News — BDN Maine
And the Brady Campaign must be burning whatever leftover firecrackers they had from the Fourth of July. Finally one recorded incident where a woman got her gun taken away from her and killed!
I had not heard of an incident like this since I started blogging. Do not mean they have not happened, but if they did, we would have heard from the Usual Suspects. Instead we keep hearing two things: 1) The same trite fake statistics that a gun is more dangerous to the woman than the guy attacking her and 2) Armed Women actually being awfully good at defending themselves and their families from attacks because they had a gun.
But don't let that stop the Bradys (and I am sure the rest of the lot will pick it up soon) from doing a whole tap dancing on the blood of the victim.
And yes, gun will make you safer, but not 100% safer. We leave those false hopeful assurances to their side.