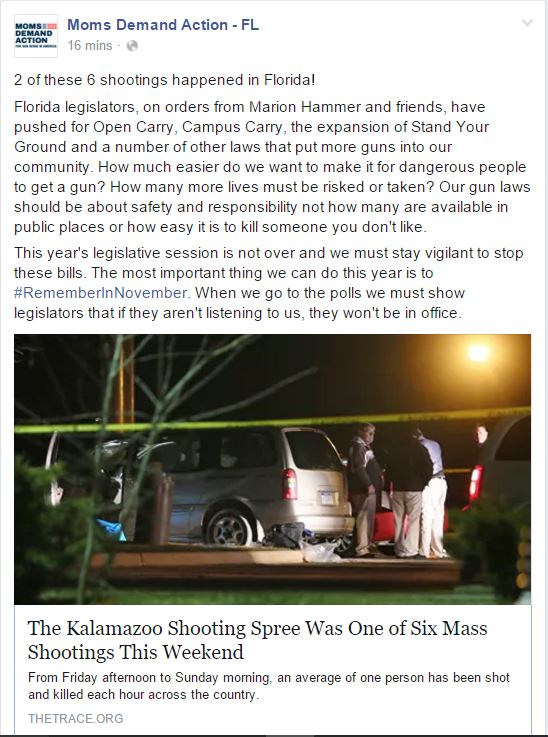 Seriously getting real thin. Chryl Anderson  is the Florida coordinator for Moms Demand and as such, responsible for the above post.  In both "mass shootings,"  I am somehow involved or responsible because I am an NRA member. Both events had convicted felons involved: one was the "victim" in one of the shooting at a hooka bar in the wee hours of the morning and it also happened to be the third shooing in the same place in less than a year.
The other incident was the perpetrator under the influence of drugs and shot at unarmed victims.
 Roy Stephens is a convicted felon who has served time for armed robbery and now escalated to Assault with Deadly Weapon and attempted murder.
Now, where does Chryl Anderson and the rest of the Moms Dements come up with the idea that me as Law Abiding citizen of the USA, NRA member and taxpayer have any similarity with the thugs above? Just because I have guns? That one characteristic is enough to befoul the name of otherwise normal people for just political purposes? That my support for the Constitution and Freedoms enumerated in it are somehow the equivalent of providing firearms and opportunities to the criminal element?
Fine then.
Woman: "So, General, what are you going to do with these young boys on their adventure holiday?"
Genneral: "We're going to teach them climbing, canoeing, archery, and shooting."
Woman: "Shooting! That's a bit irresponsible, isn't it?"
General: "I don't see why, they'll be properly supervised on the range."
Woman: "Don't you admit that this is a terribly dangerous activity to be teaching children?"
General: "I don't see how, we will be teaching them proper range discipline before they even touch a firearm."
Woman: "But you're equipping them to become violent killers."
General: "Well, you're equipped to be a prostitute, but you're not one, are you?"