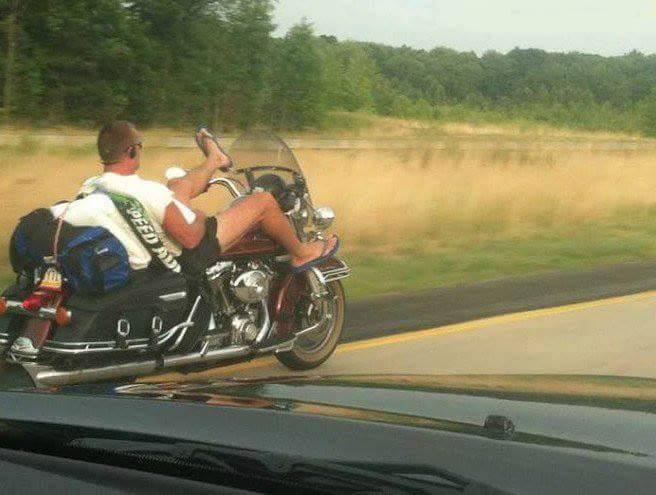 I caught this picture over at Wirecutter's and reminded me of a discussion I had with a dear friend some years ago. Like me, he is also from South of the Caribbean puddle and left the Spring Chicken age long time ago who suddenly developed a craving for a motorcycle to ride. He is a fan for European cars and was thinking about getting into a Ducatti crotch rocket to travel around the State.
I had to laugh. I told him there was a reason why the preferred motorcycle to travel around was a Harley and not a spiffy European model: Wide open straight roads. "Do you actually think you can stand 500 miles from here to the Georgia border crouched and hanging for dear life on an Italian job? Day one you'd be demanding a room with a hot tub, rum and a Thai masseuse!"
The U.S. Road system is unique. Whereas Europe's system came about roads controlled by kingdoms, ours were developed by individuals leaving for the cities of the East looking for better prospects in life. There was little on space constrains and it was all on what was the easiest way to reach a destination. And when the generation that went west in conestogas had long died, Henry Ford came about with his cheap machine and a new lot of people set out to discover what was beyond the 50 mile perimeter of where they lived. And being Americans, they drove where they wanted and stopped where they wanted to eat, rest or just take on the views. And that is also the reason (in my opinion) that Bullet Trains and other intra and interstate rail "solutions" never take: You are at the mercy of somebody else about when and where to stop and with a bunch of strangers you may or may not like.  If given the choice, which would you rather have? A free ticket to travel in Greyhound anywhere or a cheap rental car to do the same?
As for my friend, he never got around buying the crotch rocket, but he went and put his money on some small Nordic car with turbo. Hey, it is his money and he can waste it on whatever he wants. That's 'Murica.