Trump, in typical Trump fashion, made a statement that Hillary will take the Presidency – after a rigged election, of course – and appoint anti-gun Justices that will take everybody's gun, and there is nothing anybody can do to stop her… except maybe those "Second Amendment people."
The mass media immediately glommed onto this statement as Trump calling for an assassination of Hillary Clinton.
Personally, I think he meant more along the lines of the NRA-ILA and grass roots pro-gun movement, but the media has to media.
There is already the comparison that what Trump did was as bad or worse as Palin's crosshairs over Congressional districts map that supposedly got Congresswoman Gabby Giffords shot.

Expect it didn't.  Jared Lee Loughner was completely, grade A fertilizer, bat shit level crazy, and had no political motivation for his shooting.  Still, the media tried to put Gifford's blood on Palin's hands.
But now anti-Gun politicians, like Senator Chris Murphy, have jumped onto the "Trump just called for Hillary's assassination and crazy gun owning Trump fans will do it."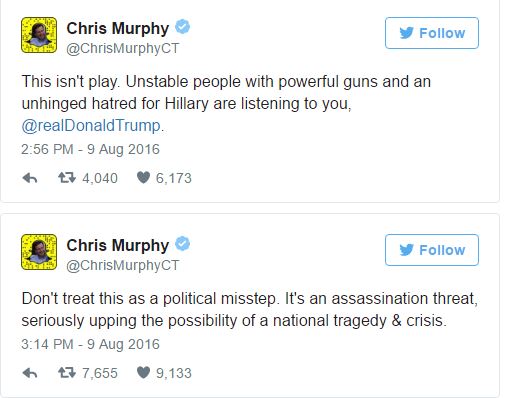 Whether or not Trump was really calling for an assassination or just making an offhand comment about the political power of gun rights organizations is now neither here nor there.  The media and antis have a narrative and they are going to run with it.
Now my fear is that this imprecise and Trumpish statement by Trump will be used against law abiding gun owners.
Have gun?  Support Trump?  Don't support Hillary?  Well… maybe you're just a potential assassin?
I don't know where this is going to go, but I don't like it.
As for Trump: a smarter man, or at least a more savvy man, knowing the media was out to sink him, would be a little clearer in making a statement like this, as it is not hard to predict the way the media would twist it.  But no.  He had to be Trump and make a statement as blunt and obtuse as the tips of his stubby, little, cocktail weenie fingers.