This is not a gun post, but I think it is relevant in today's political climate.
I caught this story over at Twitchy.
Gigi Gorgeous is a transgender (male to female) fashion blogger, model, and YouTube star.  Recently she traveled to Dubai as a tourist and was detained at the airport for being transgendered and goes on to lament just how unfair that is.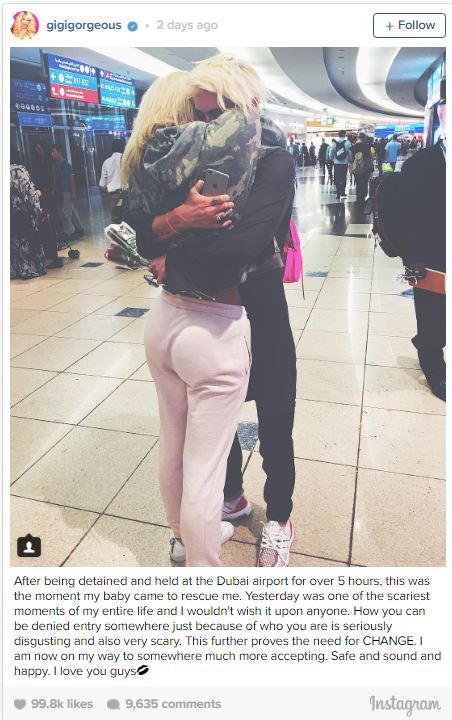 Ms. Gorgeous is a victim.  Not so much of Dubai – she should have seen what happened to her coming – but of hard core, Left wing, Liberal idiocy.
I bet you she knows all about how hateful, bigoted, transphobic, religious extremist Republicans won't allow her to use the ladies room in South Carolina.  But how in the hell does a professional transgender spend tens of thousands of dollars to buy tickets to Dubai, get a passport and a tourist visa, and not know that transpeople and homosexuals are detained and denied entry to Dubai, and can be imprisoned and even put to death if they are caught engaging in homosexual acts in the country.  The US State Department puts out travel warnings about this.
Not to long ago Dubai was in the news for imprisoning a Norwegian woman who was raped in the country.  Same thing happened to an Australian woman.  And a Dutch woman in the neighboring country of Qatar.
These nations may look like modern countries because of the oil wealth and built by slaves, but they are still culturally the same, backwards, Dark Ages, desert, Third World shit-holes they were a millennia ago.
Trust a Liberal not to know that.
I won't travel there.  You can't get in is you have an Israeli stamp in your passport, and they are even detaining people with "very Jewish" last names.  Saudi Arabia won't even allow in Jews to work.  The only way I end up in a plane flying into a Arab country's airspace is if I am aboard it delivering ordinance.  Then again, I'm not an idiot.
This type of stupidity is how someone like Obama can say "It's easier to get a gun than a book" and have people believe him.  Because, these people live in a world where an ISIS shooting up a gay night club is evidence of Republican hate and global warming is the cause of rape by migrants in Europe.  This stupidity is dangerous.  Ms. Gorgeous should be glad she escaped with her life.