Via Sean Sorrentino, I caught this truly scary video.
"Give me a knife."
Those are words that should never have to use. If your Every Day Carry kit does not have a knife (or two), it is time for you to get it.
These are my EDC knives: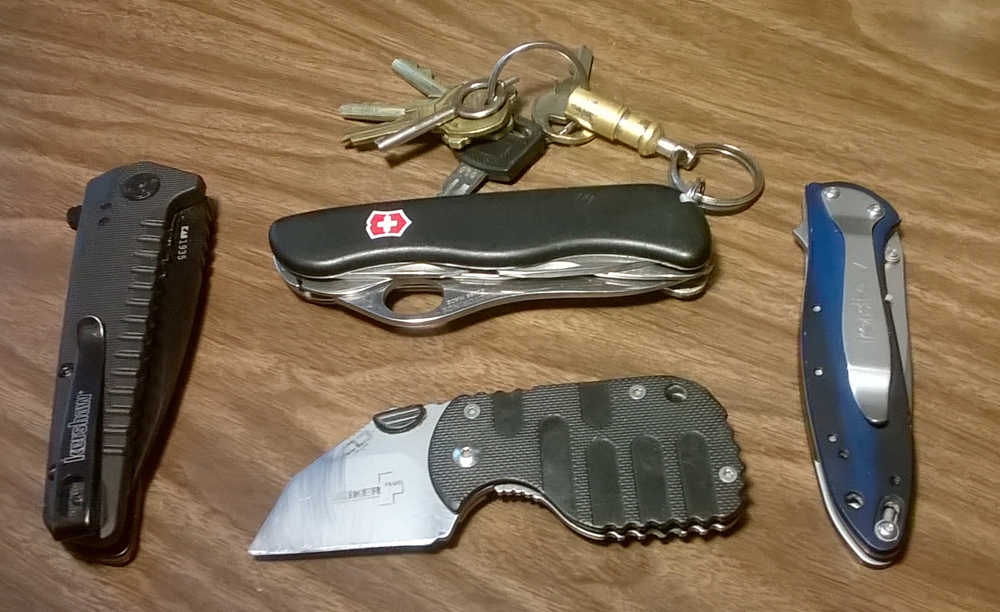 Non-Negotiable-will-carry every-day knives:
Top Center: Swiss Army Trekker. I've been attaching a Swiss Army knife to my keys for the past 35 years, that way I know I can't leave the house without a knife unless I forget my keys. The original multitool that never goes out of fashion. I can't count the number of times I have used a Swiss Army knife to get myself out of a situation, repair or emergency. I upgraded to the Trekker because the main blade actually locks open and is one-hand operation.
Top Bottom: Boker Wharcom Subcom: This is the one that gets used the most. Opening boxes, cutting stings, rope, etc. Small enough to go almost undetected and most HR people will not scream bloody murder and say you are violating the No Weapons policy at work. But make no mistake, it is a well-built little knife that will come handy if SHTF. (Notice that I did not provide a link for this one as they are apparently that specific model not being made anymore. If you find one new or used in real good shape out there in the wild, let me know!)
Both of these knives are always with me.
"Social" Use Knives":
Left: Kershaw Fatback. Drop-point blade and fits great in my hand. Great assisted opening that in NY might be considered a switch blade. If dressing code does allow good cover, this baby is coming with me.
Right: Kershaw Leek. Slim and also a drop-point blade. If the dressing code is more strict, you can easily hide this one and no one is the wiser. Also lightweight so it can go inside a short's pocket or shirt without giving that "What the hell you have in that pocket?" baggy look.
I also carry a CRKT fixed blade and a Cold Steel tomahawk in the truck, both within easy reach from the driver's seat. You never know if you can reach your EDC in cases like the one in the video and need to cut the seat-belt and egress the car in a hurry or use them to get somebody out.
As always, be mindful of your state and local laws about knives, but please do carry one!
Update: As suggested by reader Guy, follow Gibbs' rule #9: