In the new age of social media it's not uncommon for events to go from obscurity to the public spotlight within hours. Such is the case of hunting enthusiasts Josh and Sarah Bowmar. Several days ago the couple posted a video to YouTube of Josh legally spearing a Canadian black bear  which caused the anti-hunting public at large to rear its ugly head to lash out at them.

Under Armour Fails To Support Sponsored Hunter – Bowhunting.com
When I started shooting IDPA almost 15 years ago, The fashion for Tactical Tommys everywhere was 5.11 (mostly vests, tactical pants a close second) and Under Armour shirts.  As seen with other companies, Shooting Sports, military and Police helped create a buzz on a product which expanded sales to other sports and occupations. Under Armour had pretty much forgotten Action Shooters, but quietly still remained marketing to the Hunting community.
Enter Josh and Sara Bowmar, sponsored hunters for Under Armour who dared to take legally a bear with spear in Canada. Some Hunting Hating Social Media group got a wind of it, started a petition and a measly 4,300 signatures later, Under Armour caved and dropped them from their hunting sponsorship.
Now here is the issue: Under Armour still has other sponsored hunters in file and the Save Bambi Brigade found out. Oops! They still hate Under Armour because of hunters!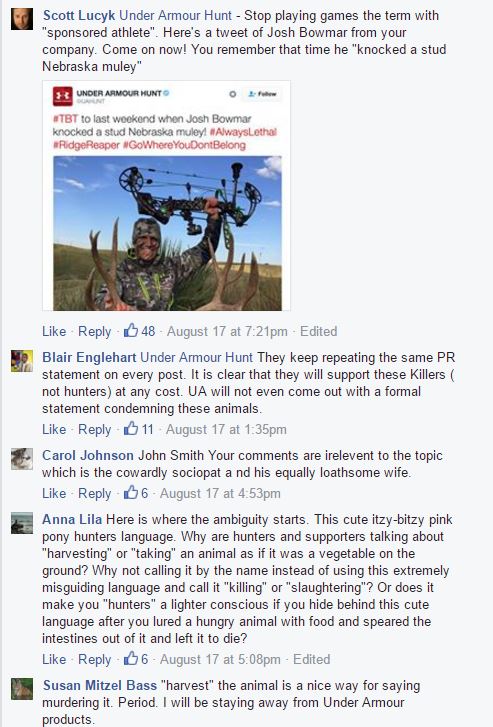 They tossed a couple of hunters to the Green Wolves in order to calm the pack, but the Save Bambi Brigade was not satisfied and sensing weakness, came back for seconds, thirds and dessert.
But know, they also managed to piss off the Hunting community who is criticizing and dumping their products.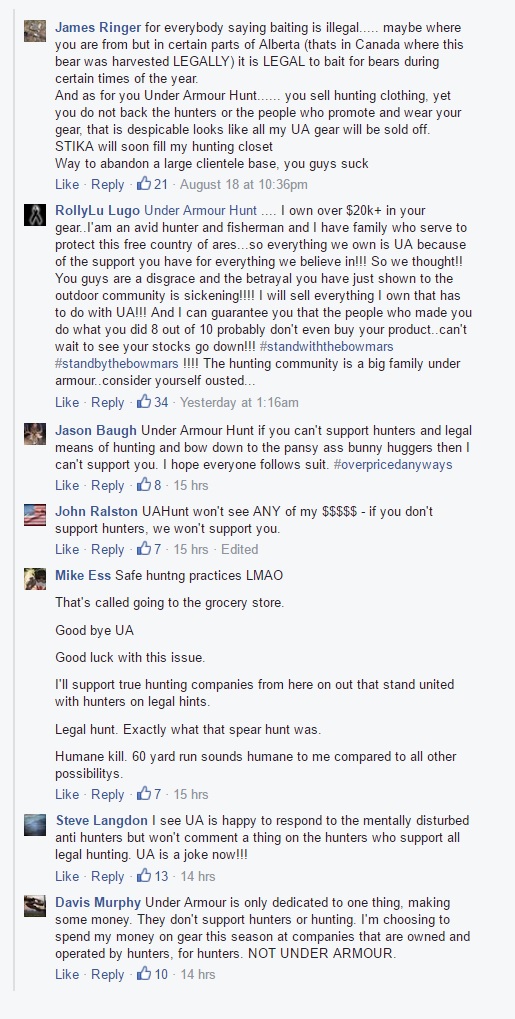 Listen , I understand a company wants to make money, but you can pretty much bet the Bambi Brigade does not spend any on Under Armour because their clothing is a) it is expensive and b) It is not made with recycled, non-GMO, gluten-free hemp. Hunters and other members of the shooting community do spend a pretty penny and are faithful to the brand. I am even willing to bet that they are the ones that spend the most money on an individual basis, so it is not a good marketing practice to alienate your oldest clients because some tofu-eating jackasses who do not contribute to your bottom line, raised a small stink online and you are afraid to appear insensitive.
Taking the middle of the road is the best way to get hit by traffic from both sides.
PS: I never liked Under Armour shirts. They reminded me of the hated Banlon shirt I was forced to wear when I was a kid. 😀