I did one of my regular checks over at the Everytown Facebook page, looking for post fodder, and I found two gems of anti-gun wisdom that I couldn't pass up sharing.
On a post about how Pediatricians should talk to parents about guns, I found this reply from some Everytown supporters.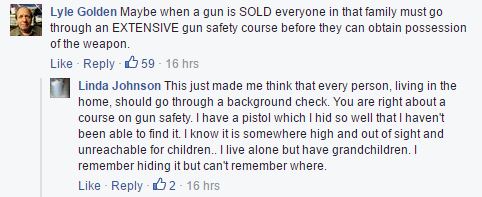 Way to go Linda, you lost your gun.  Let me tell you something I learned as a parent.  No matter how will you think you babyproofed your home, you didn't.  Because you have no idea where your gun is, you have no control over it.  So if one of your grandkids finds it, and hurts themselves with it, it's on you for being a dumb ass.  Maybe that's why you liked Lyle's post about EXTENSIVE gun safety training (although he fails to define extensive) because you know you did something stupid and dangerous and risked your grandkid's lives.  But if what I know about antis (especially liberal antis) is true, you don't have that level of self awareness and think what you did is right (hiding a gun so that you lost it) and think everybody should be as irresponsible as you.
I didn't need an EXTENSIVE  training course to have the common sense to know when my son started to toddle about and get into things, all of my guns got locked in a safe.  I know where each gun is, and I have control over all them.  But because I am a gun owner that isn't stupid enough to lose my gun and then virtue signal my stupidity on Facebook, I am the bad guy according to Everytown.
Next is a T-shirt that Everytown is selling as a fundraiser.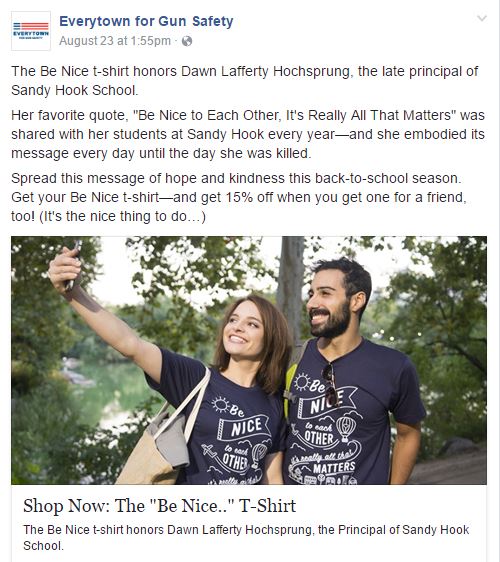 Now, I may be an asshole (in fact, I'm pretty sure I am) for thinking this, but Dawn Lafferty Hochsprung was killed by a freaking nut job who murdered his own mother and had an obsession with mass shootings.  Being nice didn't prevent the Sandy Hook massacre.  Being nice didn't stop Columbine or the Virginia Tech shooting before that.  This is a worthless, feel good platitude, that is idyllic to the point of being naive.  But we can't go about questioning the wisdom of our martyrs, can we?
If you wan't some words to live by that might actually make a difference is people's lives, try the quote by the Warrior Monk, USMC General James "Mad Dog" Mattis: "Be polite, be professional, but have a plan to kill everybody you meet."