Tyree King, age 13, was shot to death by racist white police officers who kill unarmed, young black boys for fun in Columbus, Ohio.
The police were responding to a report of a group of people who had committed and armed robbery.  The police approached King and another youth as part of their response.  The boys fled down an alley.  The police pursued them.  Cornered, King drew a BB gun from his waist band and was shot nine times.
Here we have another case of a black teen, shot by a cop.  A black teen who in this case drew a BB gun form his pants.  A black teen who fled from the cops before questioning, down a dark alley at night.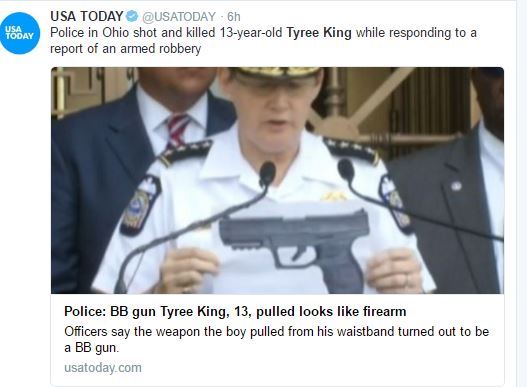 This was an unfortunate event, but from the news report, it seems like a justifiable shoot.
So far, there have been no reports of unrest in Ohio, but this just hit the wire.  I expect there is going to be some unrest when this story gains traction.
If there is one lesson to be learned from this: don't draw on the cops with a BB gun.  You will lose.