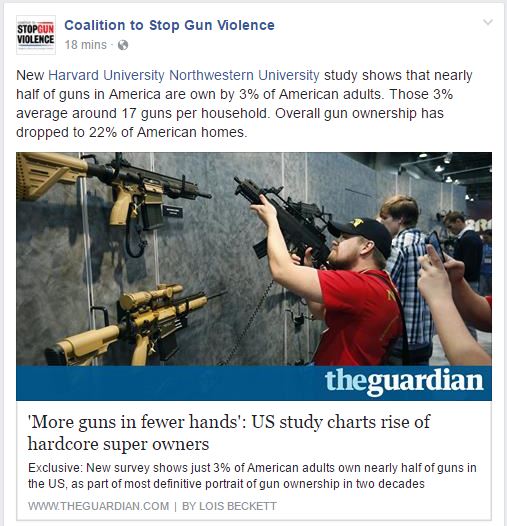 The population of the US according to the US Census Bureau is 321,418,820 (April 2015.)  Almost 25% of those are under 18 years of age (about 87.5 million) so that leaves an adult population of almost 234 million. Three percent of that numbers comes about 7 million people who allegedly owns half of an estimated 350,000,000 firearms or about 25 firearms per person, not the 17 they proclaim.
I know there are some seriously engaged gun owners with the capital to own 25 or more firearms, but seven million? Nah. And then comes the interesting question of how did the "researchers" got their data since 45 states do not demand gun owners to register their weapons. How can you make a serious study of gun ownership if you are missing 90% of the data? 
Answer: They are making stuff up. Well, they call it approximation or some other statistical mumbo-jumbo. They are not even guessing.
And according to Gallup, Gun ownership at home is at 41%, not the 22% the study boasts.
But why the lie? Because (as I predicted) Gun Control has all but disappeared from the Presidential Race and the Gun Control Groups suddenly have become irrelevant in the presidential process. They need somehow to boost the morale of its members and supporting these "studies" is a way of doing so.
Screw them.