Donald Trump Jr. posted an image on his Twitter feed about a bowl full of Skittles and Syrian Refugees.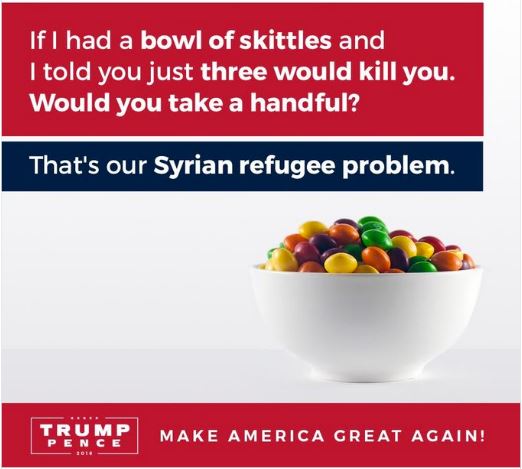 The Left has gone to task taking it apart, calling it bigoted and even – ironically – antisemitic.
Some on the Right have tried to remind the Left that SJW Feminists used the same logic, but with M&Ms, to brand men as rapists in the #YesAllWomen campaign, and are therefore hypocrites.
I don't know what percent of refugees are terrorists.  I don't know how well the vetting process the US has put in place will defend us from terrorist trying to hide among refugees.  What I do know is that the great Democrat Senator Daniel Patrick Moynihan said: "Everyone is entitled to his own opinion, but not his own facts."
So based on two rigorous international polls, I have put together my own Skittles/Refugee image that addressees my  concerns in as factually accurate a way possible.
Enjoy