An emerging industry that offers instructions to members for responding to police after they shoot someone, liability coverage and legal advice fuels a shoot-first mentality. With names like U.S. Concealed Carry and Second Call Defense, these membership groups provide advice like this nugget for calling 911 after a shooting: "I was attacked and was forced to defend myself. Please send the police and an ambulance." Then there is: "Call the USCCA to initiate your Self-Defense Shield."Translation: Don't worry about reaching for your gun because if you follow our instructions we will help you get away with killing someone.
Source: Editorial: Florida's land of fun, sun and guns | Tampa Bay Times
Don't you get it! It means premeditation! Only people who have premeditation at heart, have legal advice and lawyers on speed dial.
I do love when newspaper editorials are this hypocrite, specially from a newspaper that got sued for libel and had to settle out of court. But that does not mean they have an expensive law firm in retainer, right? On a document related to the libel lawsuit, we find the firm of Rahdert, Steele, Reynolds & Driscoll representing the Tampa Bay Times and specifically George K. Rahdert & Alison M. Steele.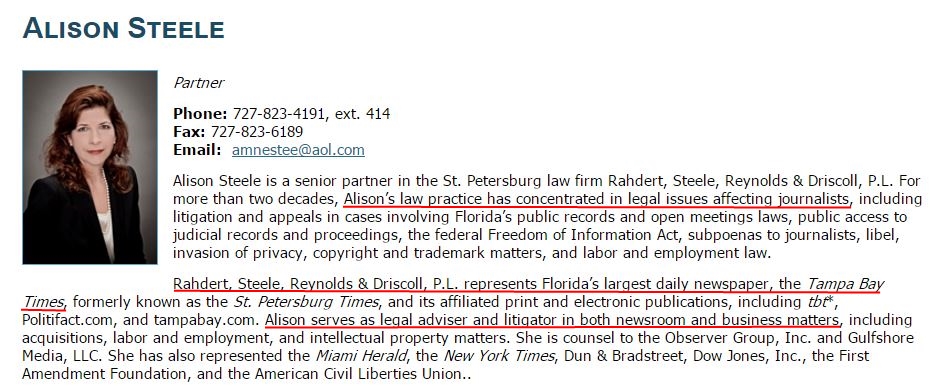 See? You as a gun owner should not be ready to defend yourself with guns or lawyers, that is heresy, that does not happen in civilized states up North or in civilized European countries.  However, Tampa Bay Tribune as your Better has the right to have legal advice (and I bet not for free) 24/7.
And the editorial board does not see the cognitive dissonance anywhere.