After last night's VP debate, Everytown posted a link to this article on The Trace, again: Watch How Chicago Gets Flooded with Thousands of Crime Guns.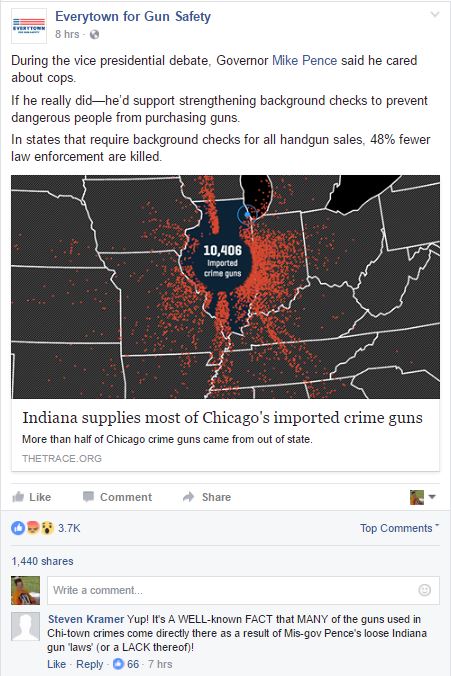 I included one of the comments in the screen grab, and the rest a very similar.  The goal is, of course, to make Chicago's murder problem not the fault of half-a-century of Democrat rule, powered by the most influential Democrat Political Machine in the country; but the fault of the Republican governor of the neighboring state.
According to Everytown and people like them, the duty of the Governor of Indiana is not to pass laws and create policies that benefit the good people of Indiana, but to use Indiana to protect the criminals in Chicago from themselves.  Forget what the 6,5 million residents of Indiana want, the Governor of the Hoosier State has to make his priority the protection of young men in a handful of districts in Chicago, Illinois.
Having lived in Terre Haute, IN and Chicago, IL, I can tell you, what the people of Southern Indiana want and need is very different than the people of the Windy City.
The Bloombergians have been saying the same thing for year about every state south of DC and NYC.  The governors of Virginia, Georgia, North and South Carolina, and Florida should ignore and even subvert the will of their constituents to protect NYC from gun violence.  When I voted for a Republican governor as a resident of Florida, I was really murdering some teen in Harlem.
This is typical anti-Flyover Country prejudice and blame the GOP for Democrat short comings practice.