I have been asked if I do not get tired of having the same argument/fights/discussions about the Second Amendment over and over. The short answer is yes, I do sometimes. I confess that there are moments I get so saturated of it all, I  just turn it off and dedicate myself to a good book or some other activity. But I always come back because I know there is somebody out there that has not seen our side of the story,has been told lies and perchance he/she may land on this blog or the Facebook page or the Twitter feed.
I don't mean to say that a hardcore Gun Control fascist will suddenly see the light because of my posts. Those are set in concrete and they will rather see you dead than admit they are wrong. My aim goes to the undecided/uninformed who maybe will change his vote or at least will not vote against guns. But the hardcore gun control fascists is where my aimed fire goes because it is them who will inadvertently help you with their fanaticism, lies and inflexible mind.
I engaged this lady yesterday after this obviously lying/misleading post of hers: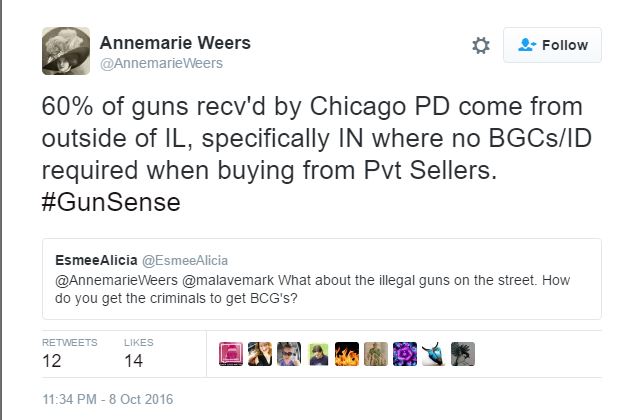 She was quoting from USA Today where President Obama cites a percentage given by Chicago PD. The later in the discussion we had, she uses the New York Times and Taco Stand as back up for her claims: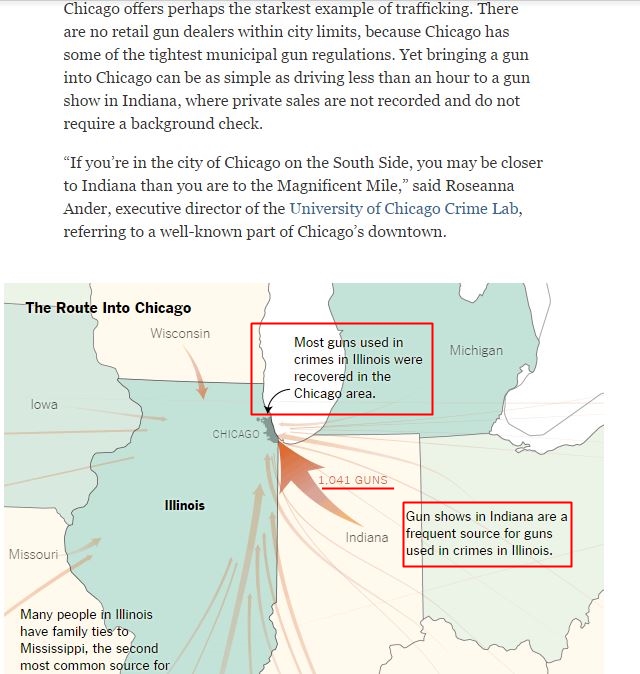 The graphic above is telling on how the authors of the article (Gregor Aisch and Josh Keller) use two facts to infer the lie (yes, a lie) that Indiana is supplying the bulk of guns used in Chicago. I made the point that the ATF numbers tell us that most guns recovered in Illinois come from Illinois itself and beat Indiana by a margin of 3 to 1: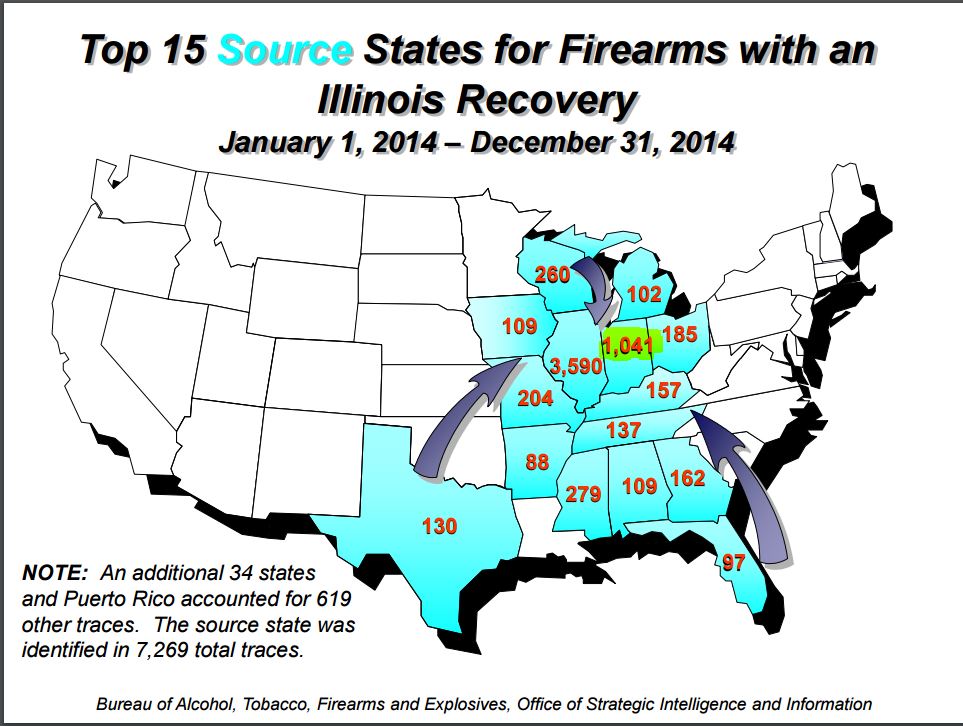 Even though the numbers quoted in the NYT link she provided come from that specific 2014 ATF report, she decided to move the goalposts and declare that report null: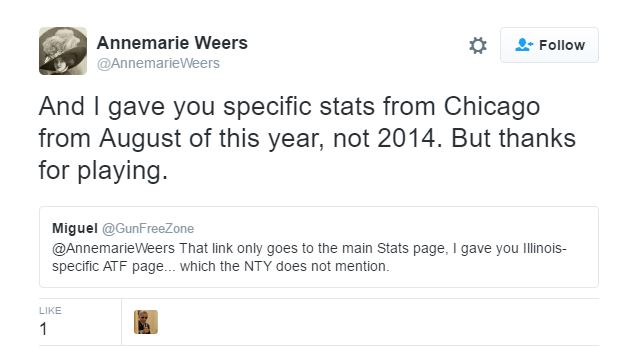 Which turned out to be worse for her since the ratio of guns from Illinois went up 4 to 1 in 2015 and told her so: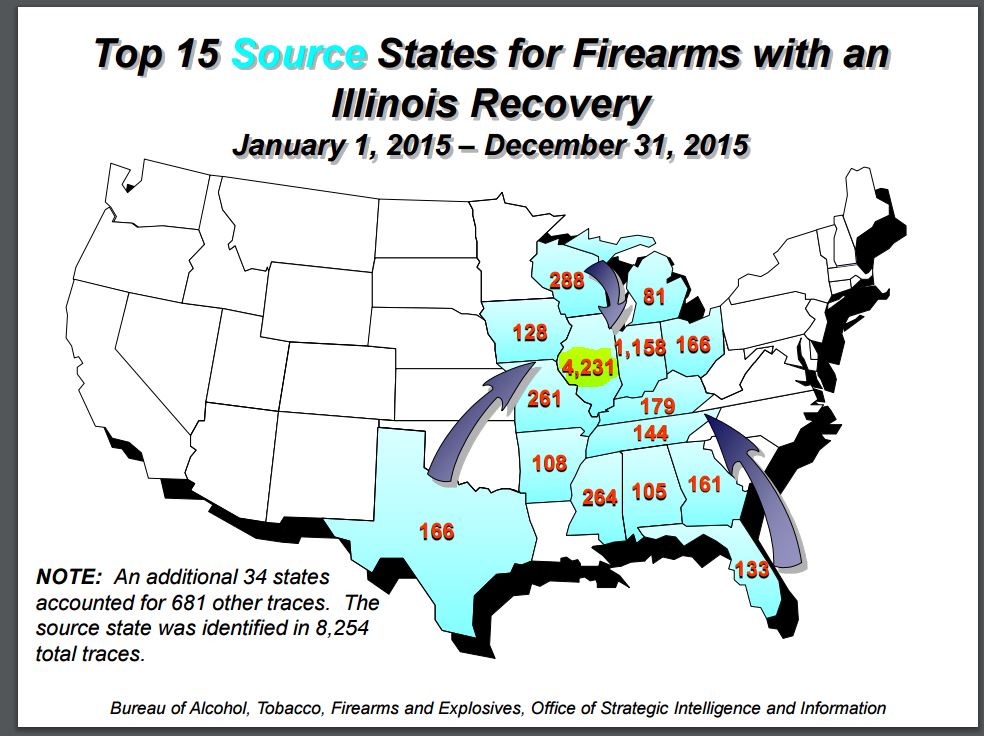 After that, she moved goalposts again, went ultra specific, reiterated the Chicago numbers ONLY. Again remember that we are talking about Indiana being specifically the supplier of illegal guns to Chicago. The same 2015 ATF report tell us that the truth is far from what she stated: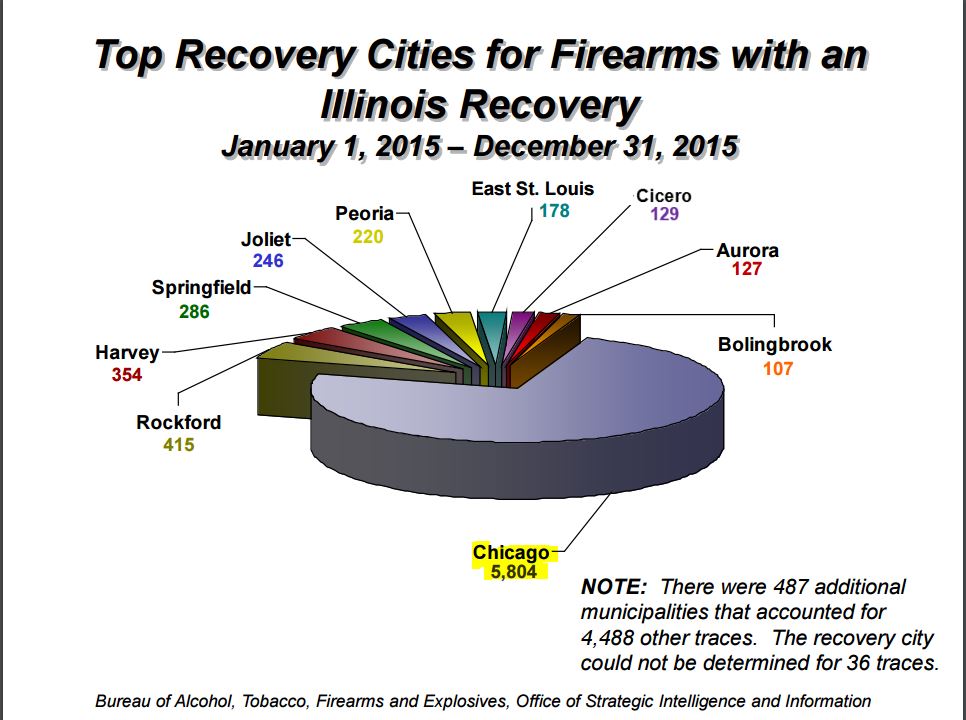 Remember that Libs can't math. If there were 5,804 recovered weapons in Chicago and the total of Indiana-traced guns is 1,158, the logical and mathematical result is that the Hoosier State is not the supplier of the Chicago guns, not even a big or small majority but a paltry 19.9% (if we consider all Indiana guns going to the Windy City.) She promptly moved the goalposts again and "specifically" suddenly becomes vacuous.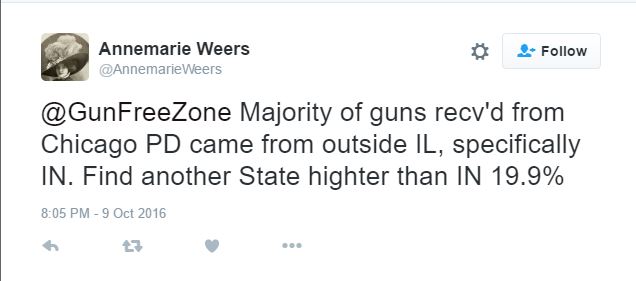 So I did a bit of math, got the 60% that Chicago PD claims out of the total ATF numbers of recovered weapons from Chicago and compared it to the numbers of the top 15 states provided by the ATF.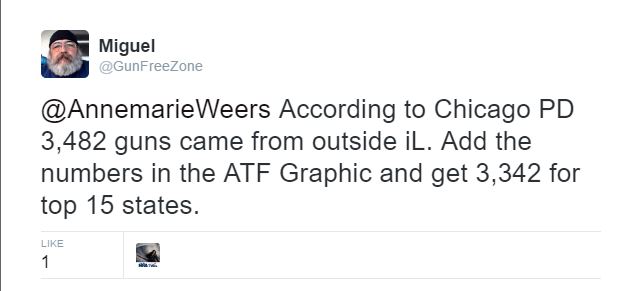 She went silent after that. It is hard to argue math when your only fuel is emotion. Will she change her position after this beatdown? No. I am almost sure she already sublimed it of forgot it or even feels that she actually won. My hope is that a third undecided or barely decided party sees this exchange or this posts and figures that the side that has no shame lying, the side that ignores the numbers and moves goalposts when politically convenient is not the side they want to support.
And then that party tells friends and so on. And that is why we stay in the fight even if it gets tiresome. We have come a long way against well-funded and well=publicized foes, we must be doing something right.