I won't bother you with analysis or explanations about the Election, not my field or expertise. Then again a boatload of "experts" got shafted like new convicts taking their first shower in the Big House.
I just want to make one little remark about Hillary's last act as candidate: She sent John Podesta to address the crowd at her HQ who told them that they were not giving up and to go home and start fresh in the morning. At pretty much the same time or really close to it, she called Trump and conceded.
That tells you everything you need to know about her and why we are very lucky she is not the next President.
As for Trump, good luck and we expect you to perform and not as a politician, just get shit done.
In other news, about the only gun control group that has said anything was (amazingly) the Brady Campaign: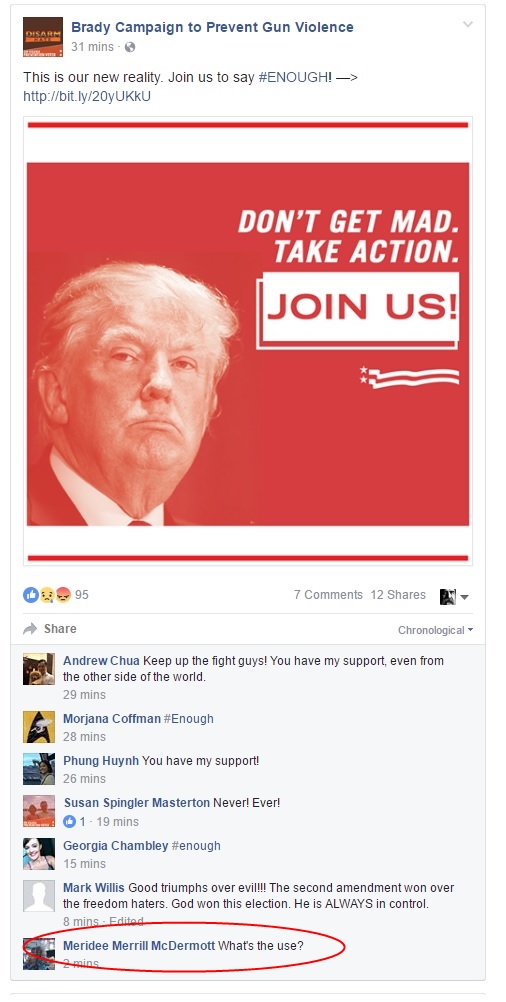 Then again right now is 4 AM and we know Gun Control groups keep office hours because they can't pay overtime to the interns or let their part-timers go to a 40 hour week or they have to pay for health care.
I am sure the rest of the groups will chime in the morning once they found out they will not be invited to Hillary's Inauguration.