Here is the letter from Executive Editor Dean Baquet. My thoughts begin after.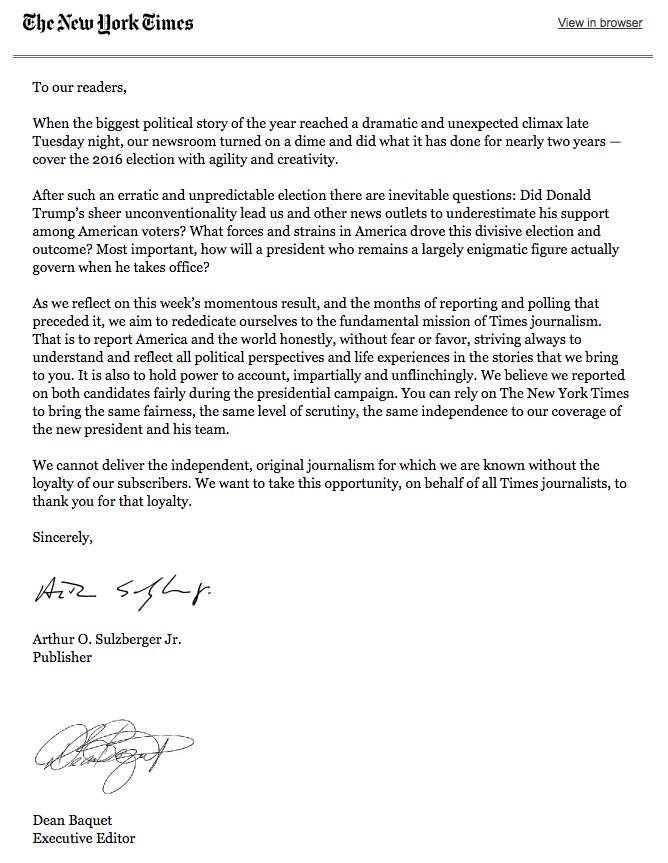 Let's take it from the top:

Keyword: Cover. As in Cover Your Ass. They realized they screwed up and had to find a way to appear impartial. Sadly, for most Americans that ship sailed decades ago and sunk in transit.

Translation: "What the royal f*** happened? All the f***ing ink we spent trying to influence other media outlets and indoctrinate people went to waste! The bulls*** did not take? Must be because Rednecks can't read."

Translation "You dumb fu**ing Rednecks screwed the 8-year vacation we were having with Obama and now we are going to be forced to actually come up with more creative bulls*** and accuse Trump of any imaginable fault and crime there is in the world.  Do you know how hard it is to actually be creative? It was easier just to cover up the wrongdoings of the Obama Administration."


Yes, you can laugh out loud. Although apparently it is impolite to do so at the beliefs of other. Screw them.

In other words, be ready for the hatchet jobs they will continue to pounce on President-Elect Trump and cover the crap from the Democrats. They ain't about to change. Leopards, spots, etc.

Translation: "We have been taking it up the rectum with dwindling subscriptions and loss of internet revenue. Hell, you may even seen the ads on TV trying to sell the Sunday Edition in Fly Over country. Yes, we are that desperate for money.  Please remain with us or the Taco Vendor is gonna sell us and use the building as refuge for 'undocumented aliens.' It seems he took a big loss in the market when Oompa Loompa won the election."
I hate faux apologies. Did you notice? And no, I do not expect they will change a bit or become honest just because Hillary lost the election. I do believe they will become even more intellectually fraudulent.