I have been engaging in conversation (trolling) in a private Facebook group that is pretty much 70% Liberal. And yes, I have been an unfeeling jackass and generally mocking the living daylights out of them with the whole election thing.
One of the members decided that the poor abused minorities would need protection from the Trump bullies and opened a sub group for volunteers to escort these "victims":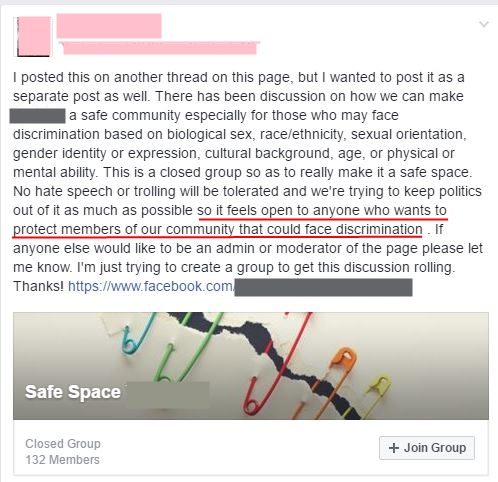 I (as any Gun Owner) am not one to stand for bullies and victimization of the weak, but I also have my footsies well planted on the ground.  I asked what kind of protection would the group be offering in case of physical violence or is she was even contemplating the possibility of it. Her response?
" I do not expect actual violence no."
Kid you not. What planet does she live in? Maybe her definition of violence is bad breath and a cuss? Maybe she needs an ambulance to take her to the ER every 28 days to get a shot of morphine?
My response was this:
Your usefulness as any type of escort is null. Actually it is a danger since unaware people will think you have something to offer for their safety. You are creating a false narrative that can be deadly.
For once, be mindful about other people and not your ego. Don't volunteer on something you cannot do.
I followed with:
OK, Simple question: First Aid, beyond CPR and Heimlich, are you trained to do initial treatment of major injuries? Do you have a really good kit that includes tourniquet and clotting agents? Gloves, CPR mask, gauze, tape, scissors?
Her reply?
 How to intervene in a racist attack
 A set of guidelines on how to address somebody who at most will say something nasty and go away. I was expecting a dumb response, but this took the cake.
The link has "wonderful" instructions on how to address an attacking mob such as:
The presence of a camera has been shown to spur some to feel more responsibility to help.
Engage with their sense of community.
Speak only from your own perspective.
Offer Support to the victim. Ask the victim if it would be okay to take them away from the spot.
There have to be the dumbest and most sheltered people ever to roam the planet. They do not know violence nor have even bothered to check Youtube to see what a mob attack looks like and what are the very real consequences. I'd say that they are just trying to stroke their own egos by pretending to care which will result in great bodily injury. If that injury would just be restricted to the Idiots That Care, I would not mind, but the real victims would also be unnecessarily  hurt in the process because they trusted the very wrong person.
I must resort to Hollywood to bring a bit of humor to this feeling-walking nonsense. I leave you with a selected scene from "Demolition Man" that illustrates my point.
We're Police! We're not trained to handle this kind of violence!