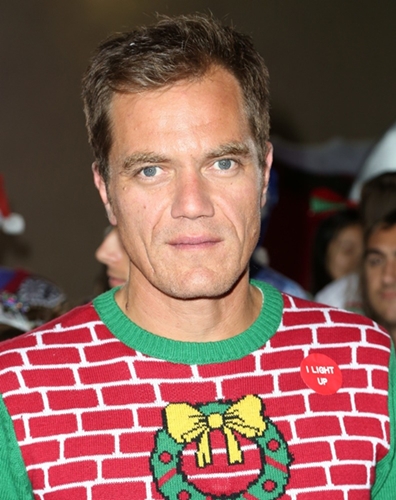 Yes, the election is all I've been thinking about. How are you holding up?
I'm on tenterhooks here. I have two young children. Basically this man is probably going to destroy the earth and civilization as we know it. It's kind of terrifying.

I've been alternating between feeling energized, stoked to fight against everything he and his supporters stand for, and utter despair, because I'm not convinced anything I do can actually effect change.
That's the thing: These protests are so moving, but ultimately what are they going to accomplish? I'm so glad these kids on the campuses everywhere are going ape s—, but at the end of the day the guy's still going to be president. Maybe you need a civil war or something.
Source: Michael Shannon: Don't talk to your Trump-voting relatives – Metro
Listen Bunky, you were supposed to be pressing the flesh for the movie you are on, you know, what you do to make a living? What on Earth are you doing making sure that half the income due to the producers and people who worked the film does not come in?
It gets even weirder:
I'm not even sure how to bust things up. We have to invent a new way.
There's a lot of old people who need to realize they've had a nice life, and it's time for them to move on. Because they're the ones who go out and vote for these assholes. If you look at the young people, between 18 and 25, if it was up to them Hillary would have been president. No offense to the seniors out there. My mom's a senior citizen. But if you're voting for Trump, it's time for the urn.
Politically-based euthanasia, well that is nice. Of course, all things being equal, that would mean I can apply my own political filter and execute those who disagree with my political views… but that would be rude and insensitive and probably send this particular Dancing Monkey under the bed while dialing 911 and making a plane reservation to Canada online.
My parents voted for Trump and I'm still not sure how to talk to them about that.
F— 'em. You're an orphan now. Don't go home. Don't go home for Thanksgiving or Christmas. Don't talk to them at all. Silence speaks volumes.
That is the Thanksgiving spirit. People think I am blowing things out of proportion when I say there is a significant portion of the population that have no issues having us killed. I don't know how else to convince them that lives are in danger because these petulant children were raised without a smidgen of morality or respect for others.
So the movie you need to miss (because it is stupid to feed money to those who insult you and want you dead) is called Nocturnal Animals and it is probably being shown at some movie theater somewhere. Go watch something else.