The Washington Post has this database of Police shootings involving civilians. The idea behind it is some sort of tracking and accountability, but I will let them explain it with their own words:

OK, so at least they admit they are after shootings that can be used for political purposes and screw it if the evidence shows the officer was right. It is not the first time that a newspaper does that kind of political data gathering and processing, in fact we in Florida are used to the Tampa Bay Times Stand Your Ground Database from which Gun Control has cherry-picked the numbers they want, but even then it goes against them.
Let's get back to the Washington Post database: What kind of poor minority victims have been felled by the racist police forces of the Nazi United States? Here is one: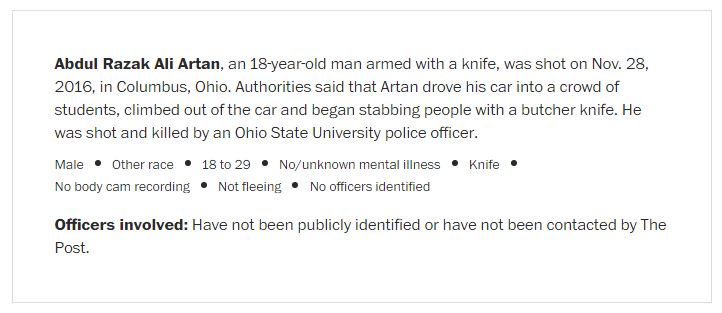 No, it is not a joke. The Ohio State Slasher/Crusher from yesterday. My guess is that WaPo thinks poor Abdul accidentally drove into a bunch of students (probably racist Trump supporters) who went after him for his poor driving skills and he was forced to grab a knife, get out of the car, chase them and stab them in self-defense. At that moment, a racist university cop showed up and instead of trying to solve the situation spraying Abdul with a can of Unicorn Farts (proven to be more effective that Star Trek's phasers set on stun), he used his KKK/NRA provided gun to shoot the poor Somali immigrant to death. Yeah, I buy that.
Here are some other examples of "bad/suspicious police shootings" according to WaPo: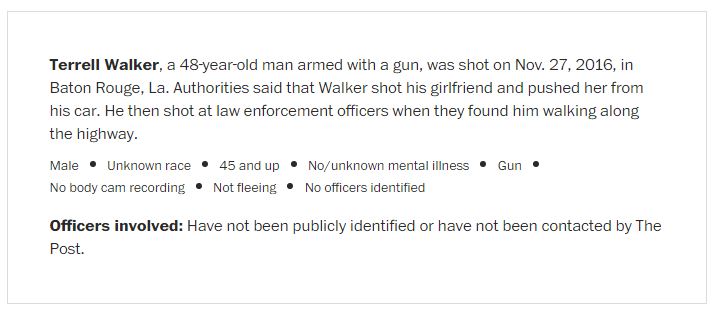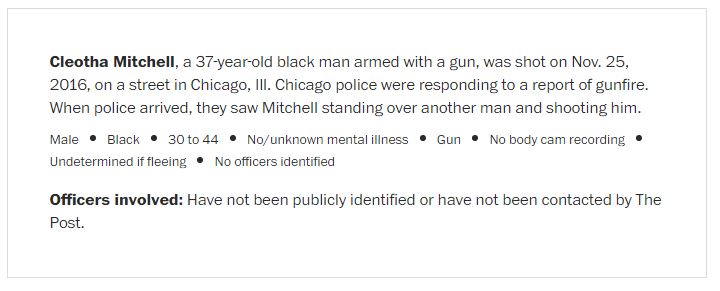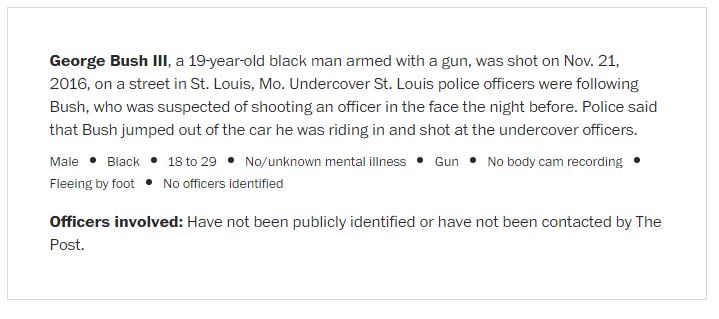 And the examples above were extracted just from the first line of the database! In fact, I did not reach halfway through it to realize this is just a political hack job against cops. The overt mention of Michael Brown and Black Lives Matters tell us that much.
How the WaPo can lower themselves to be such a journalistic scum? Ironically the answer is given by their competitor, the New York Times in a Facebook advertisement.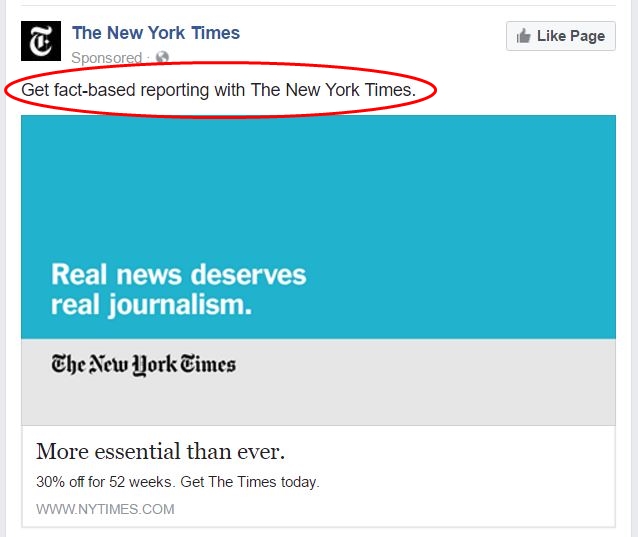 "Fact-based reporting" sounds professional enough, until you remember that the base of a great lie resides in founding it in a kernel of truth and build from it.  Don't forget that their definition of reporting is not "a usually detailed account or statement" as it says in Webster but creating a political narrative that fits their views and goals which are not necessarily the best.