Something I keep seeing around and in some circles is treated like the gospels:

I am guessing that the human circulatory is no longer taught in school and that people think there is no danger if you are shot in the leg. Of course, reality is a whole different thing and our legs do have some important blood vessels that, when compromised. can render a person dead before paramedics can arrive.
This video is about the death of Spanish bullfighter Paquirri. It is somewhat graphic, but a good example to show. The bull stabbed him in the leg and got the Femoral artery and the Iliac vein. He was taken immediately to the small ER that exists in almost every mayor bullring and was immediately treated by doctors who after initial care, put him in an ambulance and rushed to a hospital. He never made it. Time elapsed from wounding to death with immediate medical care was under 10 minutes.
Here is a view of part of the circulatory system of the legs.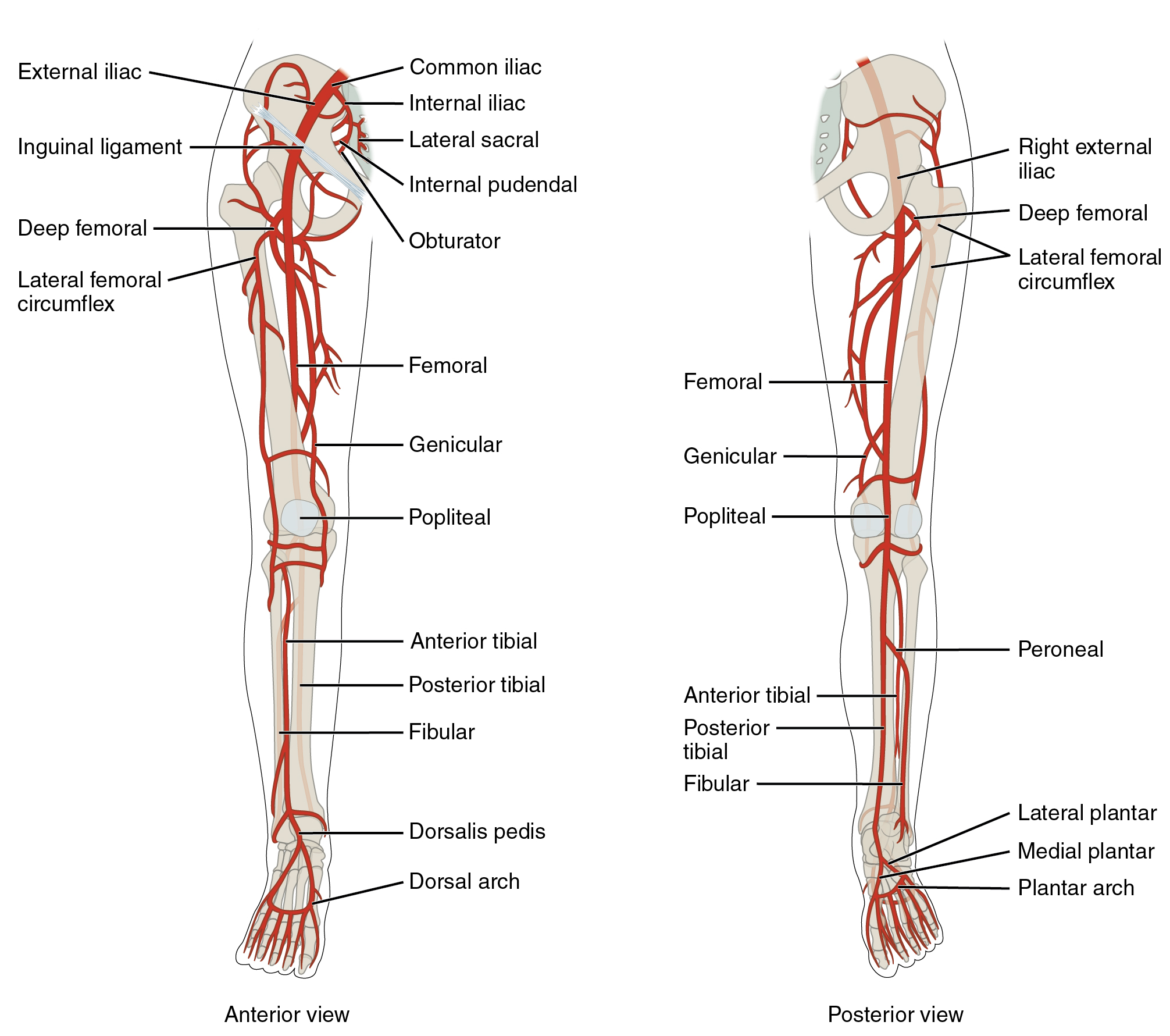 This graphic only shows arteries but I think the case can be done that there is plenty of places where a bullet can strike and create massive blood loss. And I am not taking in consideration bone fragmentation by bullet impact that will also damage arteries and veins.
Here is a digital simulation of leg wounds. The visualization will help you if you happen to come across (or suffer) that type of wound:
If it pumps, is arterial, better hurry. If it flows, is venal and you may have more time. I was taught "bright and pumping or dark and flowing" meaning the color of the blood, but if you are in a dark location, you may not perceive the shades.
If Femoral artery is cut, a person can die in less than four minutes if not treated immediately. Let me repeat that: LESS THAN FOUR MINUTES. It takes that much time for the femoral artery to pump out enough blood that makes your recovery impossible.
I have two questions to ask you:
1) What is the response time of paramedics in your area? Remember, clock begins the moment the Femoral artery is cut, then you have to call 911 and pass all the info that they need to get to your place. And when they arrive, they still have to unload their equipment and assess the wound.
The medical response in my area is damned good because there are two fire station, both just under 2 miles away. Their arrival time? About 5 minutes average after 911 is called. And that is a damned good time for a busy county like Miami-Dade.
2) Do you have your trauma pack for SHTF/Major Blood Loss yet? Get it and don't forget to get training.
Sorry this post got too long, but I hate seeing people lose their lives because of ignorance and lack of preparation. I will grant you that even with the kit, death might be inevitable, but at least you have a fighting chance to save a life. Having nothing guarantees losing that life.