This is a quick follow-up on J. Kb.'s Not So Good at Math. For those new reading the blog or may have missed it, I covered before the deceptive writings of VPC's Concealed Carry Killers before. I had not checked on it on a while and decided to see what's new.
I found a newly designed site and what appears to be a mixture of clickbait with a disclaimer, just like those parody news websites like The Onion of Duffleblog.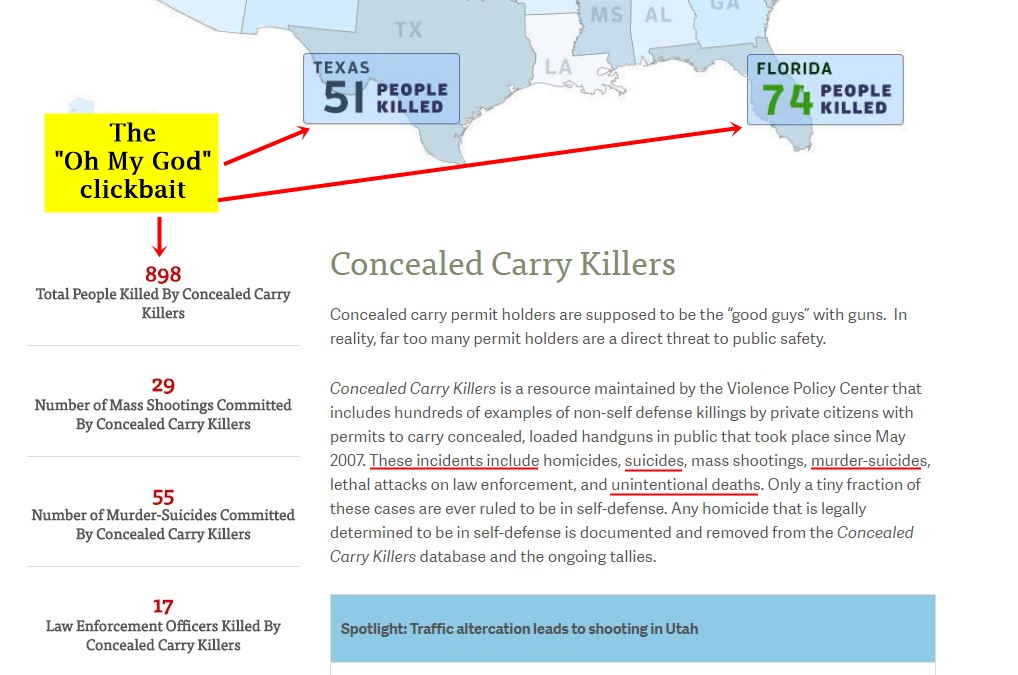 And that is how they do it: They beef up the numbers by adding suicides and accidents. And if that is not all, a lot of the remaining cases are tagged "Pending" because the courts have not decided on the particulars and in some incidents charges have not been brought, but they add them just the same.
You click on Florida, and you will see cases like Anthony Martin who shot and killed a person who was fighting a friend and drew his own weapon. Police did not arrest Mr. Martin and even stated that the case might be self-defense. Next we have suicides cases like Jamie Brunette or accidental like Latrecia Levine. But examples like this, take the cake, the biscuits and  the pancakes:

Death by strangulation. If you think about it, it is a fact-based story: it was a homicide & the defendant had a concealed weapons permit. The old readers of this blog already know I am going to quote a small dialog from a movie. In fact, I have quoted it so many times and I know I will continue to do so I made a meme:

It seems the Violence Policy center has no problem lying to the readers of this "report" because they will challenge you about having their facts correct. If you read again the first graphic, they are not telling you that Concealed Carriers are shooting people, just that they have a permit to carry. Not true, but accurate.
A fact-based lie.
PS: I forgot about mocking them (just a bit) in the past.