I saw this originally over at Twitchy.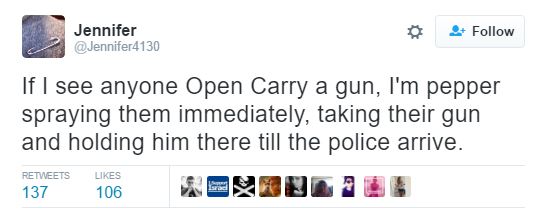 Yep.  She announced her intention to assault, rob, and illegally detain people who are engaged in the lawful right to open carry.  Why?  Because your open carry scares her.
See, you are paranoid and have a small penis if you want to carry a gun, and are going to end up shooting just about anybody because you are scared of your own shadow.  So you shouldn't be able to carry a gun.
But when Jennifer is scared because of your gun in a holster, she can hurt you and take it away from you.  That's not paranoid at all.
If she does this, I really hope it is to an off duty or plain clothes cop.  I'd pay to see that go down.
So I hopped over to Jennifer's Twitter.  It was a treasure trove of anti-gun stupid.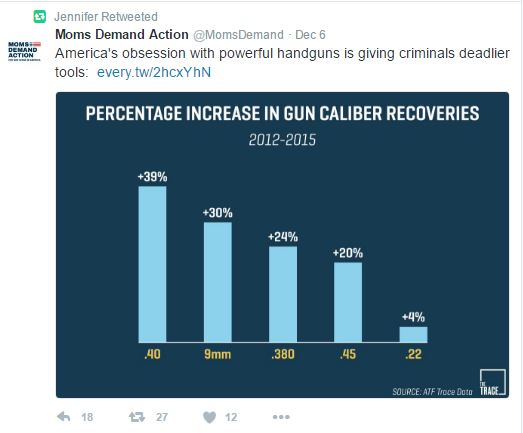 Moms Demand Action has gotten into the caliber wars and is voting .40 S&W.  I think they are just trolling here because I'd never rank .380 ACP along side the good 'ol .45, but they did.  In any case, these are the commonly available semi auto pistol cartridges sold in America.  Are they hearkening back to the days of the .25 and .32 ACP?  I doubt it, this is just plain dumb.
Speaking of dumb, this popped up in her Twitter feed: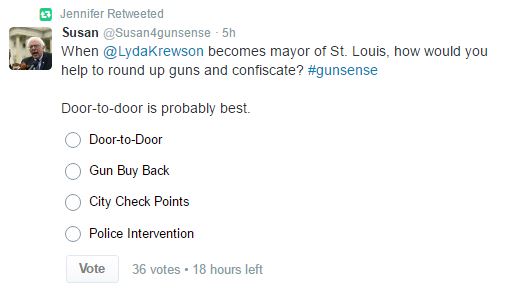 Ah yes, door-to-door gun confiscation.  That totally a legal thing for the mayor of St. Louis to do that won't end up in a lot of people getting killed.
But because irony isn't dead, this popped up too: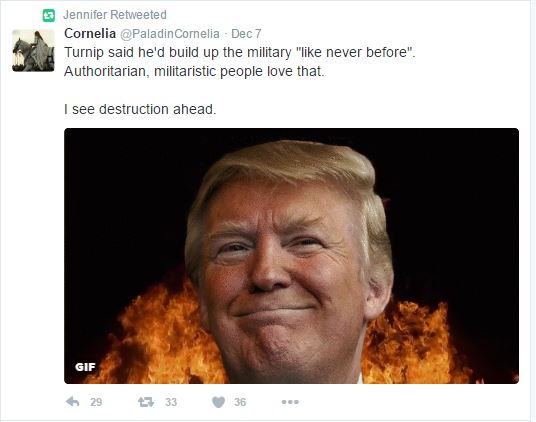 Ha ha ha ha ha ha ha!!!  Jennifer wants to illegally assault and detain lawful open carriers.  She wants the Mayor of St. Louis to confiscate legally owned guns.  She wants to deny people their civil liberties and hurt (and presumably kill if they resist) them while doing it.  But she has the audacity to be fearful that Trump is the authoritarian.
Sure…
Idiot.