After some research and info dump from some super-duper Federal sources, I found out our Carry-On Trauma Kit has to fit certain parameters: It has to be in size of fit inside a ziploc-type quart bag (I don't know why and I really do not care to find out why the dumb size), it must not contain liquids and hopefully won't set up the explosives sniffer.
So it is gonna be a combination of two things: A small prefab commercial trauma kit and trauma scissors under 7 inches long (so they fit in the stupid bag.) I am partial to this sealed unit plus the scissors: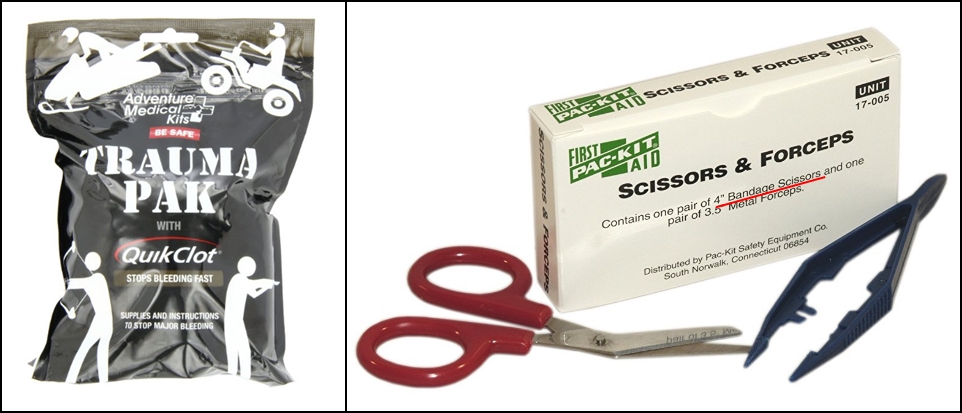 The scissors I selected because they are small and cheap. Although it is allegedly permissible, you may find yourself dealing with some less than amiable TSA employee who will go verbotten!  and confiscate them. Complain but don't argue, you want to keep the rest of the stuff so sacrificing inexpensive scissors will have to do. Just in case they want to open the sealed bag, carry both items in a ziplock bag.
I also saw this pack that may have its own advantages.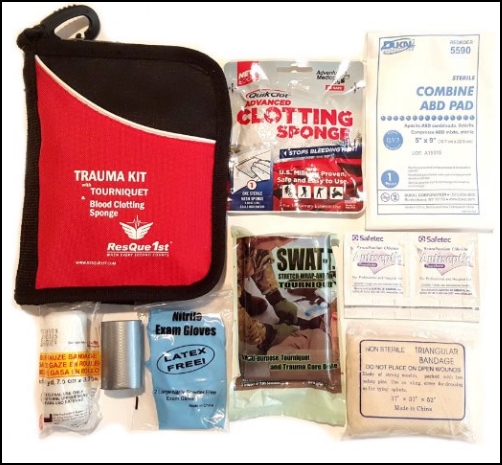 It is  7.5 x 3 x 5 inches and you would only need to add the scissors to make the combo.
And also, you can create your own combination of items if you already have them and just need to figure our the proper way to pack them and carry.  Remember that the idea is to carry something within the TSA-given parameters and good enough materials to treat a trauma long enough for more advanced rescue to arrive.
And damn it, I was forgetting this one offered by a reader: PATROL OFFICER'S POCKET TRAUMA KIT.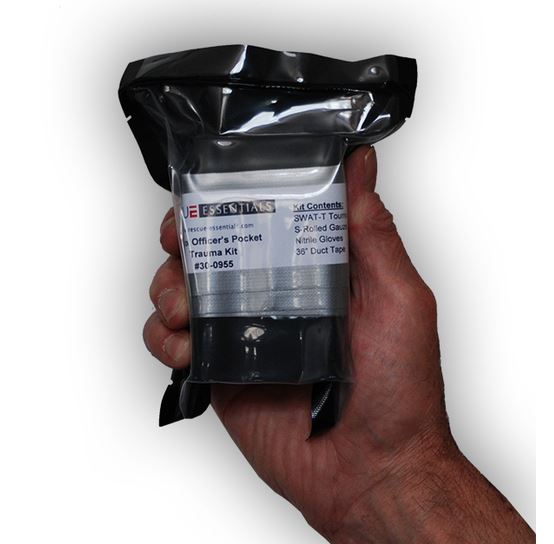 Dimensions: 3.75″W x 5″H x 2″D (vacuum sealed), 1  SWAT-T® Tourniquet, 1  NAR S-rolled Gauze, 1  Pair Nitrile Gloves, 1  3 ft Duct Tape. It may not have all the goodies, but you can't complain for $16.95.
Opine, share your ideas, etc. Especially those of you that do air travel in a regular basis.
UPDATE: This via @Groundshy in Twitter. A "safe" substitute to the shears?