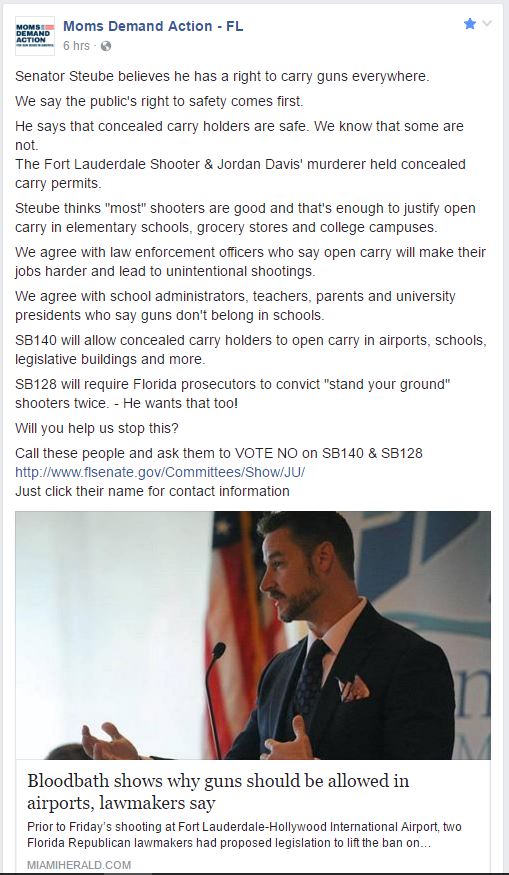 Senator Steube believes he has a right to carry guns everywhere.
He does and so does any law-abiding Floridian who wishes to carry.
We say the public's right to safety comes first.
Only in your imagination both are mutually exclusive.
He says that concealed carry holders are safe. We know that some are not.
The Fort Lauderdale Shooter & Jordan Davis' murderer held concealed carry permits.
So, you managed to get 2 examples  out of a universe of close to 14 million Americans with concealed permits?
Steube thinks "most" shooters are good and that's enough to justify open carry in elementary schools, grocery stores and college campuses.
"Most" is a understatement. Check the numbers from the Florida Division of Licensing: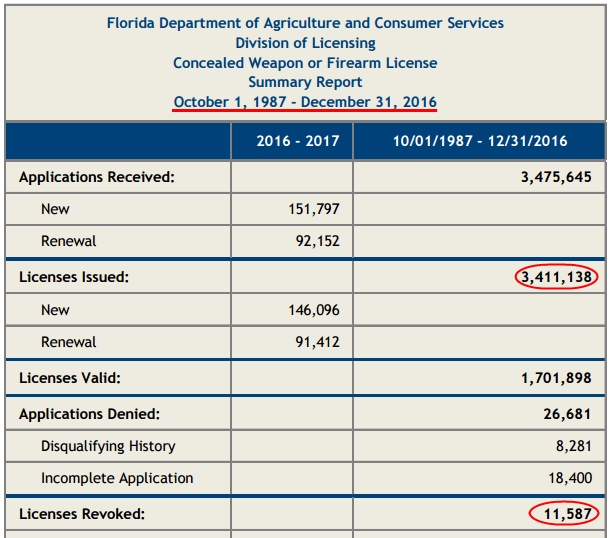 In almost 30 years, 3,411,138 licenses had been issued and only 11,587 revoked. That is 0.33% of those who ever had a Florida CWP and committed any crime (violent or otherwise) that required revocation of a license. Out of a an adult population (18 & older) of 12,336,038 Floridians, a full 1.5 million are felons and that comes about 12% of the population. Please compare 0.33% versus 12%, you notice a difference? 
We agree with law enforcement officers who say open carry will make their jobs harder and lead to unintentional shootings.
Except that Law Enforcement in states where Open Carry is now the norm, do not report either a harder job nor they killed anybody accidentally or otherwise while Open Carry. 
PS: We already carry in groceries stores.
We agree with school administrators, teachers, parents and university presidents who say guns don't belong in schools.
Unfortunately, those who want to kill people in schools without opposition agree with Moms Demand, school administrators, teachers, parents and university presidents. 
SB140 will allow concealed carry holders to open carry in airports, schools, legislative buildings and more.
Good!
SB128 will require Florida prosecutors to convict "stand your ground" shooters twice. – He wants that too!

I post the definition because it is fun to catch Moms Demand in lies. Convict twice? That would mean that the defendant had two trials. In fact here is what the bill wants done:

Dear Moms Demand: A hearing is not a trial. Repeat: A hearing is not a trial
Will you help us stop this?
Oh hell no.