I was going through some of Everytown's old posts and notices two more covering Pulse Nightclub related stories that completely whitewash what actually happened for the benefit of the Liberal narrative.
and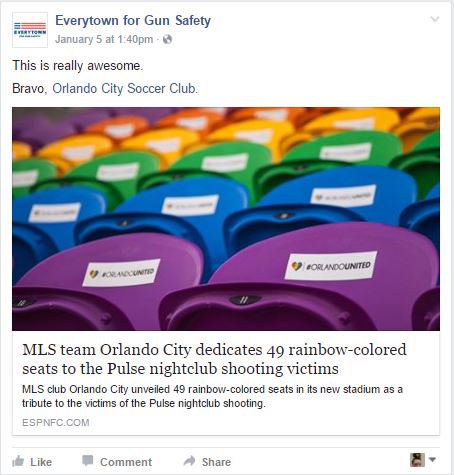 The first links to this article in People Magazine, Float with 49 Roses Honors Pulse Nightclub Shooting Victims – Plus All the Details from the Rose Parade!
The massive float featured a bed of roses with 49 white stars. A large, white dove sat above a pair of rainbows near a large oak tree.  Forty-nine people were killed and at least 53 more were injured at the gay-friendly hot spot in Orlando, Florida, when a gunman opened fire there on June 12, authorities have said.
According to People, authorities said the shooter was a random gunman?
The later post links to this article from ESPNFC, Orlando City dedicates section in stadium to Pulse shooting victims.
Major League Soccer club Orlando City on Wednesday unveiled 49 rainbow-colored seats in section 12 of its new stadium as a tribute to the victims of the Pulse nightclub shooting.
On June 12, 49 people were killed at the Orlando nightclub when a lone gunman entered the establishment and opened fire.
Orlando City chose the rainbow colors with the hashtag Orlando United on each seat to represent its mission to be an "inclusive, diverse and welcoming community." The rest of the seats in the brand-new downtown stadium are purple and white.
When I first saw this post I was tempted to make a joke along the lines of, if any sports team in the Orlando area was going to come out of the closet, it would be soccer.
But I just can't get over ESPN's "lone gunman" description of the Pulse shooter.
People, ESPN, and Everytown are contorting the truth to avoid using the term terrorism.  We know that the Pulse shooter was an ISIS inspired Islamic terrorist.  The antis and Left leaning media is doing its best to gaslight the nation into forgetting that this was another act of terrorism and instead a random mass shooting.  They need the Pulse shooting to be an excuse for gun control and not warning that we need to have better counter terrorism surveillance of Americans who travel to the Middle East and consume Islamist materials online.
Blinding ourselves to the truth because it is not a nice truth for the Left, e.g., Islam is a religion of peace, the problem is easy access to guns, ins't just how you get Trump, it's how you get more Pulse style shootings.
The Left is pushing a message that is going to sacrifice people on the alter of political correctness.  It needs to stop.