Cocks Not Glocks has decided that in an effort to be taken even less seriously than they are now, they want to intercede in the plans of some neo-Nazis to march in Whitefish, Montana.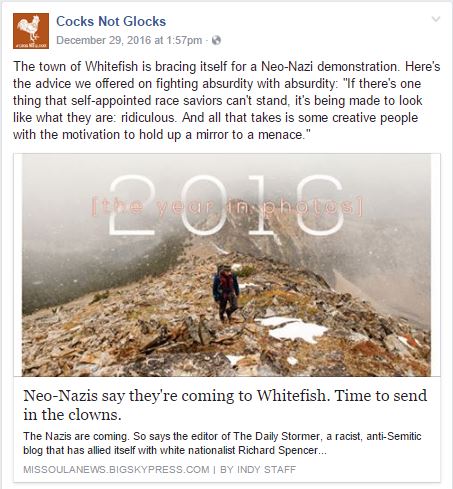 You read that right, they want to fight neo-Nazis with clowns.
Local human rights groups tend to follow Michelle Obama's maxim: "When they go low, we go high." But shaving your head and toting a gun and calling your antics "the revolution" isn't exactly "going low." It's absurd. And Anglin's neo-Nazis aren't literal Nazis. They're just dicks.
It was an epic troll that defused tensions and reset the narrative. "These absurd things speak for themselves," Jin says. "Why would we need to add to the noise and shout over it when we could just put a spotlight on it?"
Neo-Nazis have suffered similar humiliations. In Charlotte, North Carolina, one 2012 march was met with counter-protesters dressed as clowns and delivering the message, "You look silly."
Good plan, good plan.  Have a bunch of Social Justice Warriors show up to face off against some armed neo-Nazis dressed as clowns brandishing dildos.  That is only going to end well, with some hearty belly laughs and the neo-Nazis slinking home defeated.  It's going to be like an 80's teen comedy movie and is in no way going to be a temptation for some white supremacists to relive Mississippi in 1964.
I remember reading about another group of brave Americans who stood up to Nazis while wearing face paint.  I don't think they were dressed as clowns though.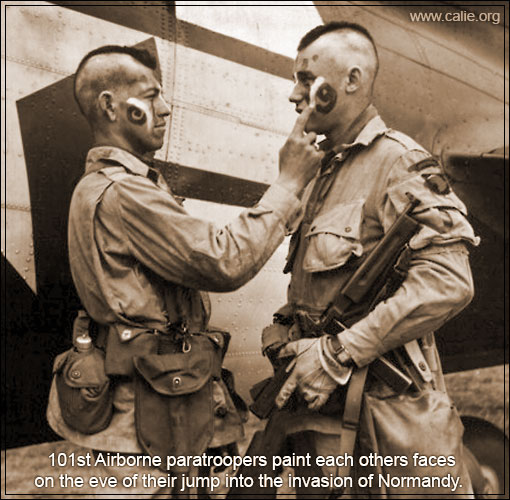 Because there is nothing new under the sun, I am aware of another advocate of marital aids who also stood up people violently hostile to the idea of Jews living where they wanted to live: Dr Ruth Westheimer.  When she stood up to the Egyptians and Jordanians, she wasn't armed with a big rubber penis, she had a sniper rifle.
Q: What is Yiddish for "get out of my desert?"
A: 8mm Mauser
Now I'm not advocating getting into a running gun battle with some neo-Nazis in small town Montana.  They have the right to march, and if they cause trouble let the cops handle that.
I'm just not sure that a bunch of angry, armed, neo-Nazis are going to be intimidated by college kids waving rubber dicks.  I don't take Cocks not Glocks seriously, why would the Nazis.  You want to show bullies that you are not afraid of them, you show them that if they hit you, you are prepared to knock them down and kick them in the kidneys until they piss blood.
If Cocks not Glocks wants to make fools the themselves in Montana, that is their right.  If I were going to make a show of things, I would want to make it clear that if the neo-Nazis actually posed a threat to my family, I would go absolutely fucking Bear Jew on them.