Our "friend" Michelle Gajda, following the idea of not fully investigating or not giving a damn and lying anyway, gave us the following morning treat: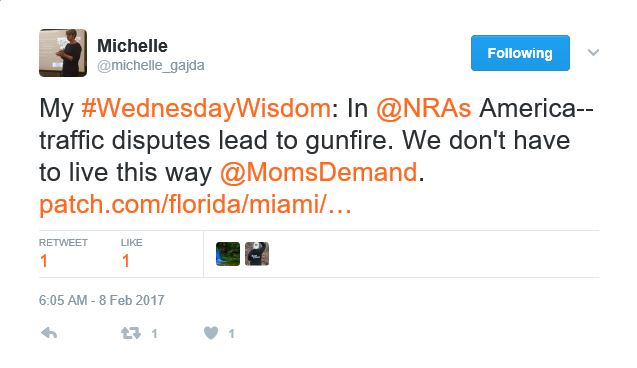 The links she provides is woefully short on details, but the inferred idea is clear: Gun Owner got mad and shot a poor innocent man. Unfortunately the truth (that elusive bitch) is a tad different:
Investigators said the incident involved the drivers of a gray Chevy SUV and a light colored pickup truck. "Both the drivers were traveling southbound on Northwest 12th Avenue from Northwest Seventh Street, at which point in time, according to witnesses, both vehicles stopped," said Miami Police Officer Christopher Bess. According to a police source, the man in the pickup truck got out of his vehicle and approached the SUV while holding a long screwdriver-type tool. Inside the SUV, the driver opened fire with the window rolled up, striking the man
Source: Police: Road rage likely sparked shooting that hurt 1 – WSVN 7News | Miami News, Weather, Sports | Fort Lauderdale
Oops! The shooter did not follow the "accepted" Gun Control protocol, started to foam at the mouth and mowed down and innocent preacher on his way to church, but he actually defended himself against a road-rager?
THAT IS NOT HOW IT IS SUPPOSED TO HAPPEN! HOW ARE WE GOING TO HAVE GUN CONTROL WHEN PEOPLE USE GUNS TO DEFEND THEMSELVES?
Answer: You are not going to get Gun Control.