I can only claim ignorance as I was unaware of Senator Anitere Flores' proclivities and for being in Bloomberg's payroll. But apparently I am not the only one that was surprised by the turncoat.
Flores, a key vote on the Judiciary Committee, vowed she wouldn't support Steube's 10 other bills, which means they would have virtually no chance of making it onto the Senate floor. 
Flores is one of five Republicans and four Democrats on the committee, so if she votes against bills and all Democrats vote in lockstep, Steube's gun bills would be sent to their graves early.
Source: Anitere Flores Kills Off Pro-Gun Bills, But at What Cost? | Sunshine State News | Florida Political News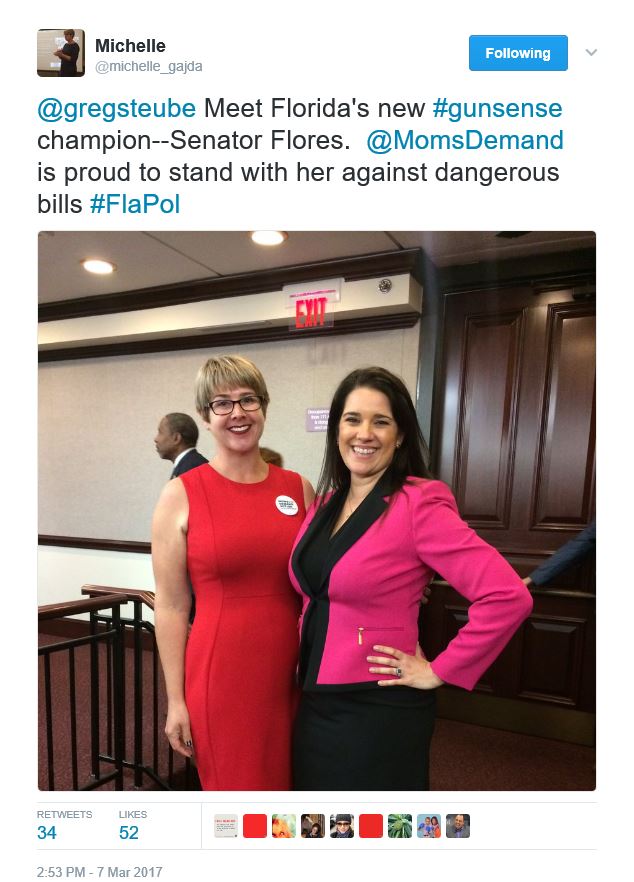 I am thinking we are done this year. Short of FDLE finding child porn in Sen Flores' computers and having her arrested and thrown in jail, I don't see any advance possible.
Flores' Senate term will end in 2018, and she is rumored to be exploring a run for Mayor of Miami once her time in the Legislature is up. Flores currently resides in a Democratic-leaning district, but it wouldn't be unheard of for the NRA to find a candidate to primary her should she decide to run for another office. That could prove to be especially alarming for Flores since primary turnout tends to be low in Miami-Dade races.
She can kiss that intention goodbye.
Some gave Flores a new nickname on Tuesday: "Madame DLP," after former Sen. Miguel Diaz de la Portilla, who killed off numerous gun bills in the Senate last year. 
Other gun groups like Florida Carry trashed DLP after he axed the bills at the time, while sources close to Senate leadership said DLP was merely a victim of a GOP decision to have him spearhead sending the legislation into the legislative boneyard.
DLP lost his reelection campaign later that year.
She is an unknown in Miami-Dade politics. Her district is big but not that populated as she got elected to office with 97K votes against her opponent's 82K. She will need to get a majority of the 1,398,112 voters in a county that is only 27% Republican and she just betrayed the hardcore voters of that party.  She also has not been involved in  MD Politics but has been more of a Tallahassee creature so unless she has been deceived she has a chance to win, the only other reason is some sort of payout from the Carpetbaggers.
Since she can't be re-elected there is little we can do other than oppose every bill she supports and make sure she does not have a political life after. Hell, if we could send he out North with her new master, I would.
Or a transfer to Havana, permanently.