Well, Flores told the News Service of Florida it was the attack on the Pulse nightclub that made her change her mind about gun rights, and that "no one should be surprised by her stance."
"I think to say that it came as a surprise to the NRA — I'm surprised they're surprised," she said during an online interview.
So, if you take Sen. Flores at her word, it was the June 12 terrorist attack that killed 49 people and wounded 53 more that made her switch camps.
Well, that doesn't quite jibe with the facts.
On July 6 — more than three weeks after the attack — Flores sent a gushing letter to Marion Hammer, past president of the NRA, a current board member and executive director of the Unified Sportsmen of Florida.
Nowhere in the letter does Flores mention the terrorist attack or her newfound anti-gun stance. In fact, her letter indicates quite the opposite.
"I have always been and will continue to be a fierce defender of our constitutional rights," Flores wrote. "The Second Amendment, in particular, guarantees a fundamental individual right to keep and bear arms that government has no right to infringe upon. During my years in public service, my record shows that I have acted in accordance with these beliefs and values."
Flores sent the letter in lieu of completing one of the candidate surveys, which Hammer sends out every year.
"Your survey covers many issues and topics that I have addressed over my ten years in the Florida legislature," Flores wrote. "I encourage you to review my record, as it is the best reflection of my position on each of these policy items."
Source: When trying to justify why she turned on gun owners, Sen. Flores flubs the facts
Shall we revisit the letter?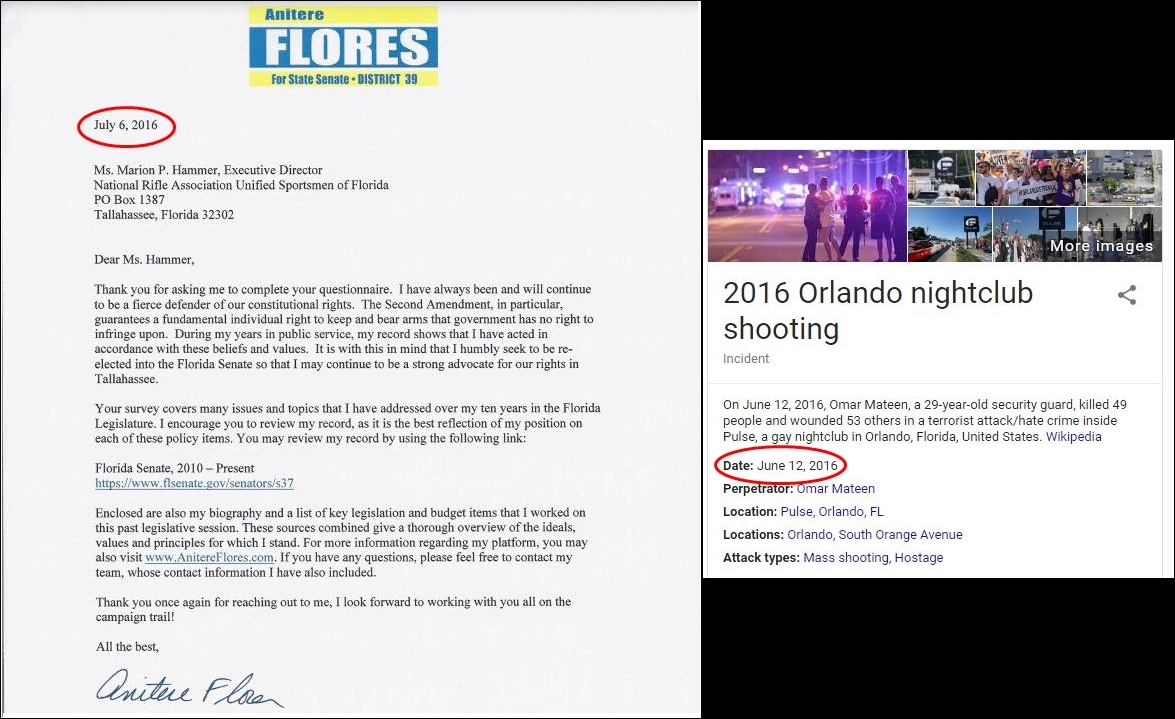 It is becoming clearer and clearer somebody or some organization came to her with enough "motivation" to suddenly switch sides and get her to find a home among Gun Control. Was it cold hard cash? No idea. Was it a promise of "Hey! We got Terry McAuliffe to be the Governor of Virginia. We can make you Mayor of Miami-Dade easily!"? Again, no idea.
And don't forget to demand for answers from the Senate President, Joe Negron and at least your local Senator even if they are not in that committee.  Pressure must come from all sides to make the GOP develop a backbone.