So there is this group, Phoenix John Brown Gun Club who touts to be an armed Left Wing "Working to stem the tide of reactionary recruitment within white working class communities, fight white supremacy, & build liberatory community defense."
OK, kinda contradictory if you are fighting White Supremacy and you are white and carrying an "assault weapon" because kinda contradicts the tenets of the Left in America. So let me dig a bit deeper on what they stand for: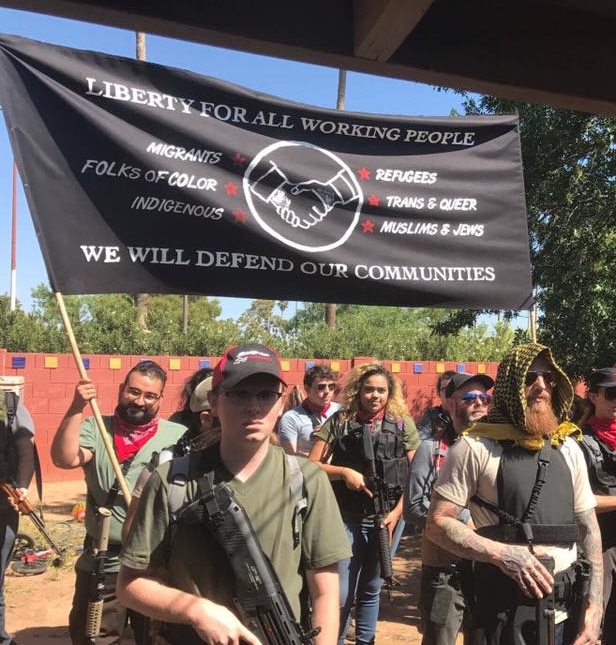 OK, cool. I can dig that you feel those groups need to be defended. Call me crazy but, wouldn't the application of the Second Amendment be more effective? I mean, it stands to reason that if those "abused" groups were armed, it would be kinda difficult for anybody to abuse them, right? I know, it is a revolutionary concept for the Left, but this is the revolution or am I mistake with the concept?
Is there anything else about this group?
"The history of the white working class is one full of resistance, collectively and individually, against the rich elite that hold power over all of our lives. From massive armed uprisings like the Battle of Blair Mountain in 1921, to the resistance to coal mining in predominately white rural Appalachia today, white working people have been in conflict with those that uphold predatory economic, political, and social systems."
OK, so far we are somewhat historically  accurate. But something is not quite right.
"The history of the white working class is also one filled with collaboration with those same rich elite power holders. White working people have played the role of foot soldiers for the political and economic elite, participating in genocide and the enslavement of other peoples, and overall protectors of the ruling class. White working class participation in state and paramilitary organizations and formations like the Ku Klux Klan, the Minutemen, the U.S. Armed Forces, and the Council of Conservative Citizens has undermined the struggle for freedom among all people."
Hmmm, we have what seems to be an attack of white guilt.
"It is with these conflicting histories in mind that we hope to incite a movement amongst white working people that works toward the total liberation of all working people, regardless of skin color, religious background, sexual orientation, gender identity, nationality, or any other division that bosses and politicians have used to fragment movements for social, political, and economic freedom."
So basically you guys are a Left Wing Ku Klux Klan: Minorities are still inferior but instead of directly oppress them, you are going to do the soft tyranny this of " defending" them because you think (and know in your heart) they are inferior. Got it.
Here is an article about them by an avowed Left Winger:
Since you don't every day see groups of left-wingers totin' semi-automatic rifles, strolling down the sidewalk, I figured I would follow them and record this odd phenomenon via Facebook Live. Earlier, the spokeswoman told me that someone with the Brown Berets might talk with me, but she later came up as I was recording the group with my iPhone, and told me the Brown Berets were keeping it zipped as well. She also asked me to stop filming. And I told her I wasn't going to do that, because we were on public property.
Source: Lemons: Gun-Totin' Left-Wingers Demonstrate at pro-Trump Rally: Is Bloodshed on the Horizon? | Phoenix New Times
Well, that does not sound good.
"But at one point, I walked next to a dude in a yellow headscarf, whom I'd tried to talk with before, and I brushed against him, unintentionally.
I didn't think much of it, as the sidewalk is only so big, but he apparently took offense, because in retaliation, he walked backwards into me, pushing me aside.
This is the sort of thing that I would normally expect from the right-wing militia-types, but, in reality, the group was little more than an ad hoc left-wing militia. So I shouldn't have been surprised."
Ouch.  So much aggressiveness which is par for the "revolutionary" groups. Again, not surprising me one bit, thinking they have some sort of power can be quite intoxicating.
"I told him I was with Phoenix New Times, but I wasn't going to show him anything unless he identified himself to me.
He would not do this, and the conversation went back and forth, with him asking me to stop filming and leave, and me informing him that we're in a public place and I'm not going anywhere.
"I'm just going to warn you that we're not responsible for anything that might happen to that phone," he told me, meaning the phone I was holding.
The spokeswoman approached, justifying their request that I not film because they were "trying to protect the safety and identity of our members."
And that is the paragraph with all the info you need to know: They were threatening a "journalist" with destruction of property and possibly more. And although you know my contempt for the latest generation of journos, the point of not respecting the First Amendment and its basic applications means that they do not respect or understand the Bill of Rights as a whole and that the carrying of weapons is at best decoration and at worse intimidation. Do they have the balls to and actually kill political opponents? I doubt it, but at the same time I have experienced how fast people not only adapt to killing but come to enjoy it.
Every Communist must grasp the truth; "Political power grows out of the barrel of a gun."
Mao Zedong . "Problems of War and Strategy" (November 6, 1938), Selected Works, Vol. II, p. 224.
And never forget one thing: Screw heroin, nicotine, oxy, cocaine, meth, etc. There is no more addictive and more "satisfying" drug than Power. They do not want to fight power for liberation's sake, they just want a taste of that throne. and the perks it gives. They ignore that the throne is downrange.
And once again, we end up with the basic difference between them and us: We just want to be left alone. They can't help themselves but to tell people what to do.
---
PS: And this is also for those on our side who think the Left will magically shed their notions once they buy a gun because somehow and magically it will make them understand what the Second Amendment and the Bill of Right means.
Spots on a Leopard.