From a mile away and probably with bodyguards. And yes, that is their definition of face to face… the love to move goalpost.
An organization formed the day after the 2012 Sandy Hook Elementary School shooting in Connecticut plans to hold a rally in Atlanta this weekend during the National Rifle Association's conference."We want to bring people together to show the counter perspective," said Lizzie Ulmer, a spokeswoman for Moms Demand Action for Gun Sense in America. She said the rally is aimed at what she calls  the "dangerous" agenda of the NRA leadership.
The rally will be held at 11 a.m. Saturday at  Woodruff Park,  91 Peachtree St. NW.
Source: Moms rally against gun violence during NRA meeting
Same place as the Disarm The Hate group, but the following day.
In case you missed the earlier map: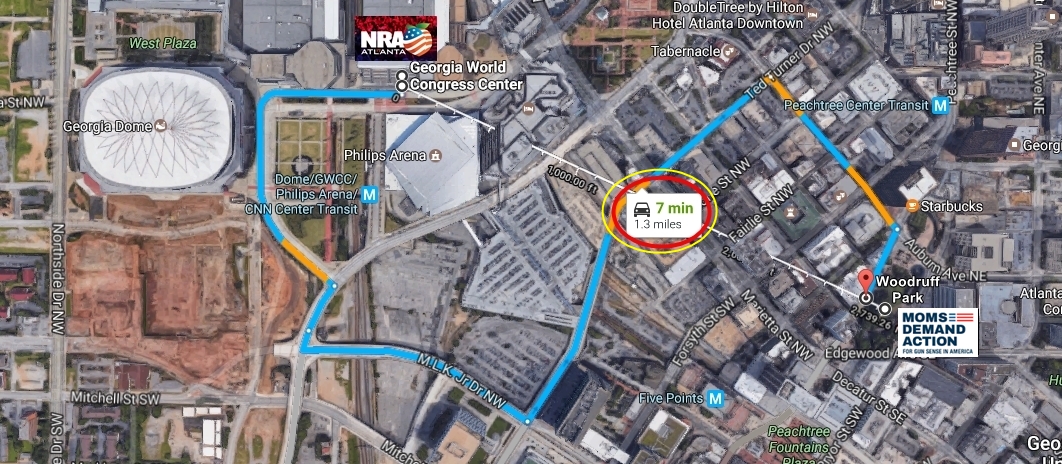 Maybe somebody in Atlanta will tell me if that park is a Gun Free Zone because Shannon likes to do her "soirées" where NRA members with guns can't come in. Of course, that means that NRA members without guns can traipse unencumbered while wearing the appropriate clothing with the NRA logo emblazoned as loud as possible.
So, nothing new: Shannon doe not take chances that her thunder will be stolen and wants to control the events as much as possible from as far away as she can manage without looking pusillanimous.