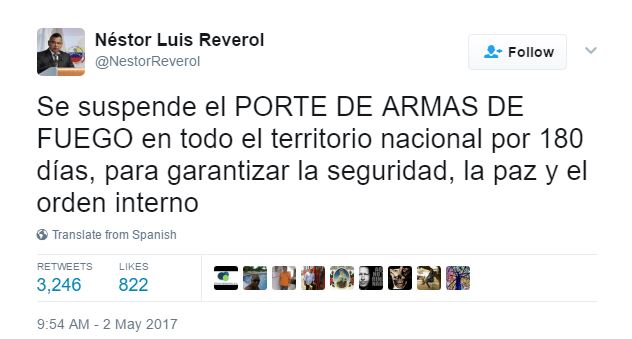 "The PORTE DE ARMAS DE FUEGO (Permit to Carry Arms) is suspended throughout the national territory for 180 days, to guarantee security, peace and internal order."
Nestor Luis Reverol is the Minister of People's Power for Interior Relations and Venezuelan Justice. Outside the President, he is the most powerful man in the Nation as he is the Chief of all Police Forces and Head of Internal Investigation A.K.A Secret Police.
The Permit to Carry Arms is what the paperwork is called which is both ownership and carry of the specific firearm fully described in the card. And since they have not declared any exception, it includes hunting armament, the guns of private security companies, and other gun-like artifacts that look like guns such as AirSoft, Paint Ball Guns, spearfishing guns, etc. Basically anything that has a trigger and projects something.
Venezuelans have just been told that their very registered weapons are , with one stroke of the governmental pen, illegal and so are they. if they chose to prosecute your ass.
Gun Control is such a lovely thing. I am sure that secretly in their offices, Members of the US Legislature, heads of Gun Control organizations and even a future presidential candidate in yoga pants are saying to themselves:
"Why can't we me more like Venezuela?"
Because fuck you. That is why.