I knew way back during the Democrat primary, that Hillary was going to have a much harder time getting elected than she or anybody on the Left thought.
I knew this because of the answer she gave to a very particular question.
Q: "You've all made a few people upset over your political careers. Which enemy are you most proud of?"
Hillary: "Well, in addition to the NRA, the health insurance companies, the drug companies, the Iranians. Probably the Republicans."
Yes, Hillary Clinton declared the five million or so NRA members and 26% of Americans who are Republicans to be her enemies.  Enemies.
Merriam Webster defines the word enemy this way:

So according to Hillary, NRA members and Republicans are a hostile force, one that she must injure or overthrow.
Of the five primary candidates on stage, only one, Jim Webb, did not list some group of Americans as his enemies.  There is a reason he is no longer a Democrat.
Flash forward to yesterday.  Trump says something dumb and grandiose so the earth will continue to revolve around the sun.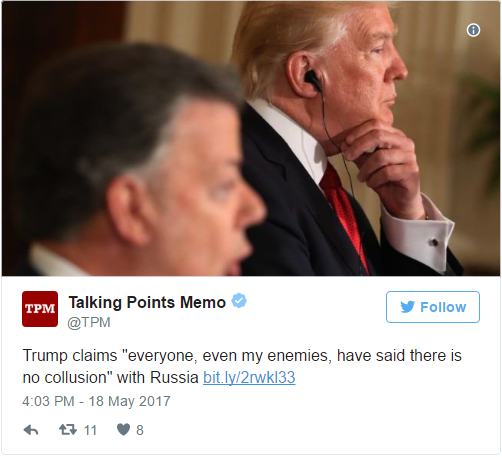 Enter Keith Olbermann and a host of other Leftists.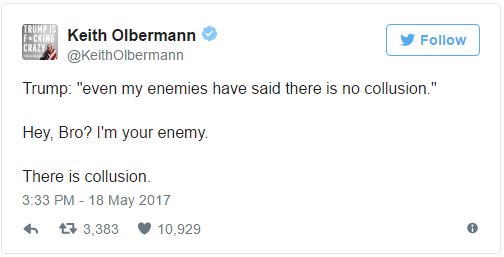 These people are falling over themselves to declare themselves the ENEMY of a sitting president.  Enemy.  As in potentially violent adversary.
There is no crossing the divide here.  There is no mending relationships here.
This is Jews vs. Palestinians.   And yes, the Democrats are the Palestinians.  They hate everyone not like them with religious fervor, claim to be oppressed when they are not, and the media ignores or justifies their fanatical violence.
Does the idea of Trump being the enemy apply only to Trump or to his supporters too?  The evidence suggests the Democrats have adopted "if you are not with us you are against us" as their mantra on this.  With this being the attitude, Antifa is only the tip of the iceberg.
This is a party declaring the other half of the country their ENEMIES.
I'm still trying to get over just how terrible that it.  T
They hate you.  They want to defeat you.
This will lead to the balkanization of America.