Author and columnist Sarah Kendzior was on vacation in Branson, MO, and went to the grocery store, a non-event which precipitated this tweet.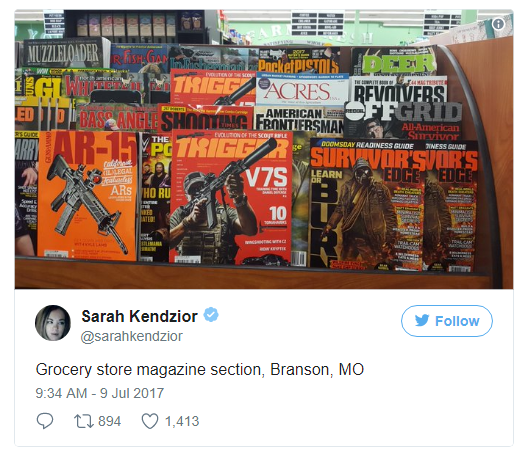 I was trying to figure out just how anti-gun this post is.  Ms. Kendzior didn't seem particularly pearl clutching, and even followed up with this.

She is the author of the book The View From Flyover Country which is a collection of essays about politics from a Liberal in St. Louis.
She gives her professional credentials as:
I am currently an op-ed columnist for the Globe and Mail, where I focus on US politics. I also am the US correspondent for the Dutch news outlet De Correspondent. Previously I was an op-ed columnist for Al Jazeera English, where I wrote about exploitation, particularly in higher education, the diminishing opportunities of America's youth, and gentrification. I have also covered internet privacy, political repression, and how the mediashape public perception.  My April 2013 article "The wrong kind of Caucasian" is the most popular AJE op-ed of all time.
I have also written for POLITICO, The Chronicle of Higher Education, The Guardian, Foreign Policy, Quartz, Slate, The Atlantic, Medium, Radio Free Europe, Opinio Juris, Alternet, HRDCVR, POLITICO Europe, The Chicago Tribune, The Baffler, Blue Nation Review, Alive Magazine, Ethnography Matters, Registan.net, The Common Reader, The New York Daily News, La Stampa, World Policy Journal, The Brooklyn Quarterly, The Diplomat, Marie Claire, Centre for International Governance Innovation, Teen Vogue, City AM, World Politics Review and The New York Times.
Perhaps as a flyover resident, even Left of center, she was just illustrating America's gun culture.
No tweet about guns goes unnoticed on the internet, and the regular fools came along to voice their opinions on this horror as well as devolving into typical Red State bashing.



But this one was my favorite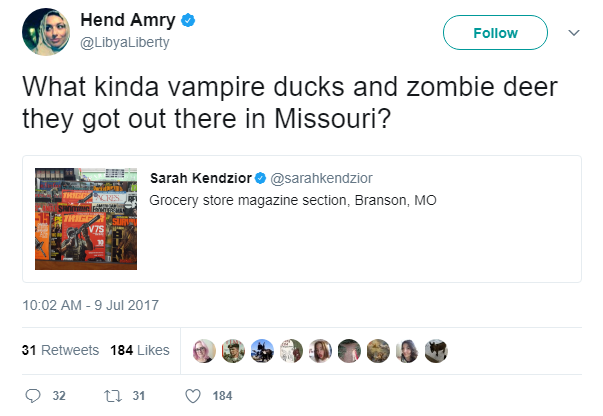 The answer is: it doesn't matter.
Branson is a few hours drive from Ferguson, site of the famous Ferguson Unrest.  A series of "protest" in the name of a new "civil rights movement."
AR-15's and high capacity handguns are not for vampire ducks and zombie deer.  They are for arsonists and looters who might turn you into the next Reginald Denny (Yes, I know that was LA in 1992, but the horror of that video has been burned into my mind).
It's not about ducks and deer.  It's about keeping you from becoming a casualty of those – from Ferguson, to Portland, to Baltimore, to Berkeley, to Hamburg – who, more and more, think that smashing things, beating people, and burning buildings is the way to get their point across.