I will occasionally discuss a post with my wife before making it.  Run some ideas by her to flesh them out.  The subject of this post actually turned into a fight.
After yesterday's day at the range, I came back to a very heavy news cycle and I had some catching up to do.  This morning I was reading about the aftermath of the Charlottesville protest and voiced an opinion and it went downhill from there.
My first was: "I am going to need something belt fed, and grenades, lots of grenades."
My second was: "I actually want this shit to go bad and for it to turn into a raging fucking bloodbath.  The only tragedy about one person being killed by being run over by a Nazi is that it is not nearly enough."
The more I read, the more I hated everyone.  I mean truly fucking hate everyone.
I'm not a Nazi.  Pretty sure of that.  A Jewish guy who believes in limited government and individual liberty.  Yeah, pretty sure I'm not a Nazi.
Then I voiced the opinion that caused all hell to break loose: "The more of the opinion from the Left that I see, the more I understand the Nazis and I fucking hate it."
Apparently, anything on my part but the utmost condemnation of Nazis was less than acceptable.  And there is the rub.
I hate Nazis.  You can take that to the bank and cash it.  Believe me.  But I understand where they are coming from.  That is – and I need to make this clear – not the same as condoning them.  This is what a good portion of this blog post is all about.
So let's turn our backs from the Nazis for a second and look at the other size of this shit storm supercell.
First of all, an important question needs to be asked: am I white?
A lot hangs on this question.  Some 80 years ago, Nazis would have said "No."  As a Jew, I am not Aryan, I would not have been accepted as European, I would have been untermensch.  In 21st century America, the Nazis feel pretty much the same way.
The Left disagrees, to them I am very white.  Not just white, but absolutely soaked in the original sin of white privilege.  Not just do I have white privilege, but I have super white privilege called "Jewish privilege."  It's all the sin of regular white privilege magnified by Jewish money and control of the banks and media and ever other anti-Semitic conspiracy theory borrowed from the Protocols of the Elders of Zion.
Because of my white Jewish privilege, at best, the Social Justice crowd doesn't care about me.  In practice, they hate me.  I oppresses everybody and am unwelcome in their safe spaces, dyke marches, slut walks, student governments, or anywhere else.
So I guess the answer to "am I white" is "it depends on if it is a reason to hate you" – i.e., I'm not white to justify Nazi hatred and I am white to justify Leftist hatred.
Since I am dealing with the Left right now, I'm white.  As a white guy, this is what I see:
Here is a radical Leftist professor calling for a white genocide.  Yes, he was reprimanded, but ONLY after public outcry.  Had his tweet not gone viral, Drexel would not have done anything.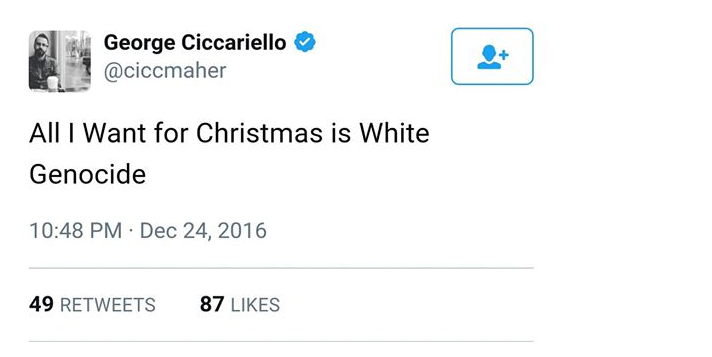 Here are a couple of Harvard students at a debate competition justifying white genocide.
If I were the parent of a student, I would be upset if my child were shown a video teaching them why they should feel guilty for being white.
If I were the parent of a college student, I'd be pissed if I sent my kid to Arizona State, Wisconsin-Madison, Hunter College, Grinnell College,  or an enormous list of other schools that teach in classes that 'whiteness' is racist, problematical, and should be deconstructed and abolished.
It's like the entire American University system hates white people.
A writing conference in Minnesota was canceled because there were too many white people.  It wasn't intended to be all white.  It was just who volunteered to teach children to write.  But according to the left, it's not worth teaching children to write if it exposes them to too many white people.
The media too.  It's not like a major international newspaper would publish a cartoon that said it is "unfortunate" that there is not planned genocide of white people.  Oh, wait, they did.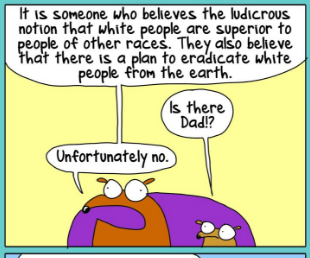 Or that people on Quora boast that they enjoy seeing white men suffer.

Lady Gaga decided to make some vapid but innocuous comment about Charlottesville on Twitter.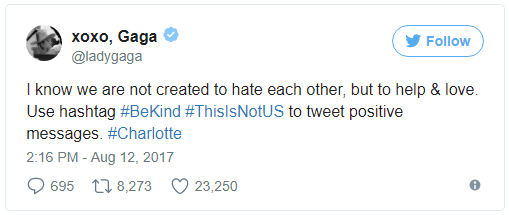 Well, black Twitter decided that white solidarity wasn't welcome.
This is nothing new.  We learned from protest after protest that the opinions of white people are irrelevant.  Occupy Wall Street called it the "progressive stack" and put white men at the back of line to speak.  It has become so cliche, that a video of this was turned into a meme.  The only thing the Left accepts from white people, especially white men, is for them to rend their clothes, throw themselves prostrate before POCs, and beg forgiveness for the sin of white privilege and give reparations to POCs.
Following the events in Charlottesville, white people were instructed very clearly to shut up, because even though a white protester was killed, our feelings don't matter anymore.
Michael Moore, in his unending quest to be the biggest piece of shit on Earth, decided to celebrate some arrests in Charlottesville with this: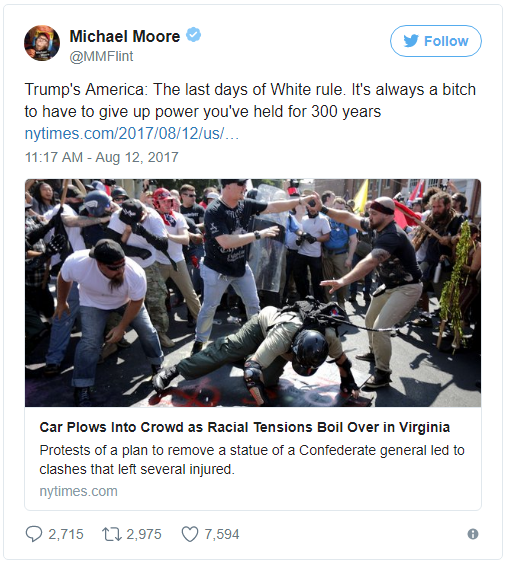 If I were a straight up, pure bred, white man, I'd be absolutely sure that the Leftist powers that be, particularly in academia, hate me because of the color of my skin.
I can see how one might form the opinion that Social Justice is less about equality and more about a vision of a boot on a POC foot, stamping on a white face – forever.
One could look at the Sanctuary City issue and come away with the opinion that Leftists are letting in these Mexicans to rape our precious white women and children then are released or given the opportunity to plead to lesser crimes to avoid deportation because deporting criminals is "racist."
If I were a working class, white guy, who busts his ass every day to make ends meet, and all I see from the Left is identity politics that openly hates me, tells me that I have everything because of my white privilege and not the 60 hours a week I spend on an assembly line*, teach my kids that they are awful people because they are white, and then celebrates it if I fell on hard times, I might want to join up with people who actually want to fight for the downtrodden white guy.
*I actually did that in real life – work an assembly line.  I know how grueling it is.
These fucking Leftists are so God damn fucking awful that they tempt me to be sympathetic to white supremacists.  
It's not just America vs. Nazis anymore.  Identity politics has redrawn the battle lines and I am in no man's land.  Each side has declared me their enemy for their respective reasons.
So here I am stuck between Scylla and Charybdis.
I'm a Jew, so I'm not white, except when I am.  The Nazis hate me and the Leftists hate me.
If I wanted to be humorous I'd say I just can't win for losing.  The reality is I see something like Charlottesville and I just want to napalm the entire fucking area and let them all burn.  Is a Nazi on fire?  Good!  Is some Leftist bitch with a white male coffee mug experiencing the agony of having her skin be turned into chicharones?  Fantastic!
I hate them all.