Mexico got hit by a rather nasty earthquake in the 7.1 range. As usual, Twitter is where you will find the fastest images. NBC had this old school cliche going.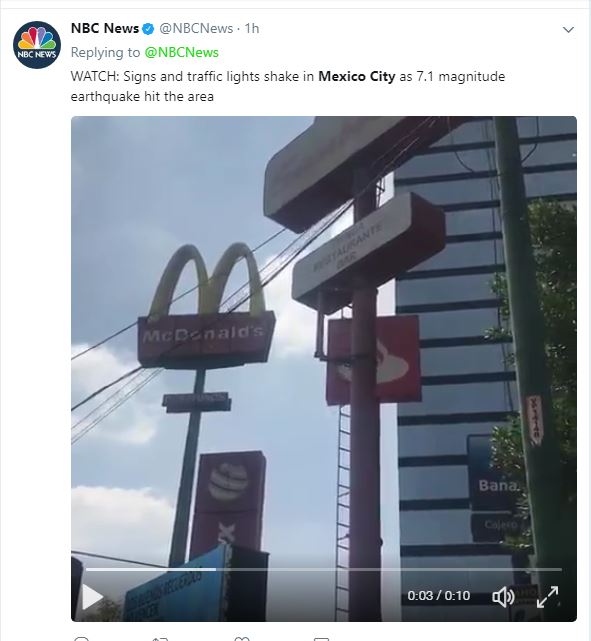 In the meantime, the man in the street was showing buildings shaking,
Momento captado durante el fuerte terremoto en la #CDMX #AlertaSismica pic.twitter.com/NqLf9U2Axm

— Alerta Chiapas ⚡ (@AlertaChiapas) September 19, 2017
And collapsing:
#BREAKING: Here is the moment when another building collapsed during the Mexico City earthquake. pic.twitter.com/Mk1hIFr5hR

— BreakingNNow (@BreakingNNow) September 19, 2017
Pieces falling off the ones still standing:
#Sismomexico Mexico City #Mexico #FuerzaMexico Actually! pic.twitter.com/3uLoBqfROE

— Millenials Emprende (@MillenialsE) September 19, 2017
The waters "boiling":
7.1 Magnitude Earthquake In Mexico City. Footage from Tourist Attraction Xochimilco.pic.twitter.com/XAzBz9g126 https://t.co/c99qVATMXa

— JulesBlue (@FoxyBlue52) September 19, 2017
Technology simply is making Main Stream Media obsolete…more obsolete. They are due for evolution or extinction.