They posted this just 3 days ago and got brutally called as a lie.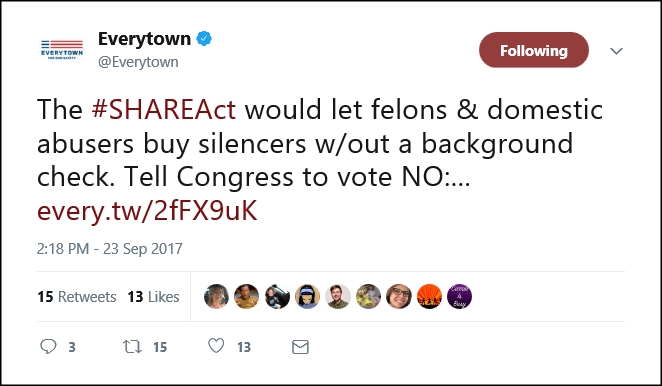 So today, they "fix" the lie with a load of bulls… misinformation.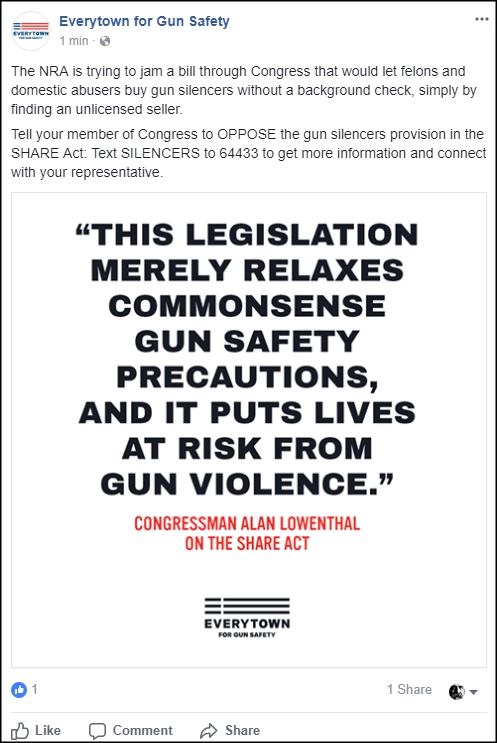 "The NRA is trying to jam a bill through Congress that would let felons and domestic abusers buy gun silencers without a background check, simply by finding an unlicensed seller."
It does not matter for Everytown that it is illegal for Private Citizen (A.K.A unlicensed seller according to Bloomberg & Co) to knowingly sell a silencer or doing a Straw Purchase for a felon or convicted of domestic abuse, because the truth has never been their goal.
There are no elimination of the rules here. You won't find firearms silencers next to lawnmower mufflers at the Home Depot (essentially, they are the same thing) nor will they be picked up at Walmart by just showing ID. You still will need to go through the background check and fill the ATF 4473. The only thing being done is eliminating the stupid regulations and taxes on basically a bunch of baffles inside a pie that reduce the detonations of a firearm to a less damaging levels.
If your cause is righteous, why lie?