Beverly Hills Antifa (I can't think of a more privileged group of people) is upset that brown Antifa has turned on white Antifa.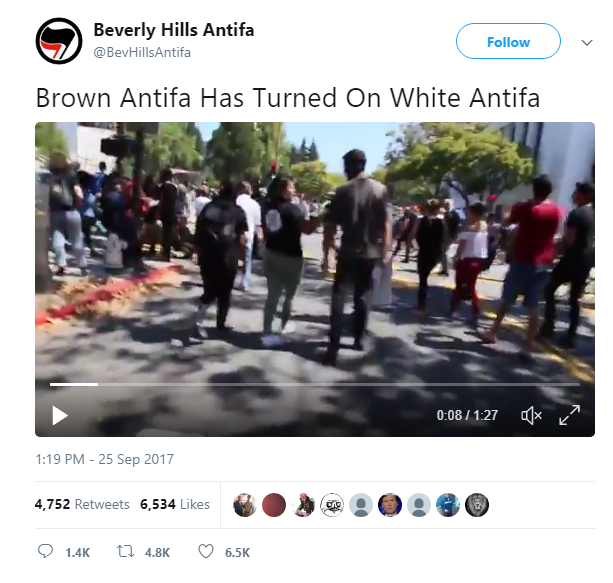 Yes, you saw that correctly, a woman saying "racism is in your DNA."
Glad to know that white people are now Progressive untermensch, genetically inferior with terrible characteristics.
That sounds a lot like what Obama said when he claimed that racism is part of America's DNA and will always be part of who we are as a nation.
Then I saw this video from last night's Tucker Carlson show.
Forgive me for saying this, but I have come to believe that the Progressive goal is to make minorities in general and black people in particular hate America.  Black people who show abject disrespect to America, who openly criticize every aspect of America, who rant about America as #Amerikkka are "woke" and "brave" and "heroes."
They are pushing the idea that America is a white supremacist nation by white people, for white people, regardless of what the Constitution says or the success of black people in America.
I sincerely believe in the wake of Trump's election, the far left is doing its best to foment a race war.
I remember when race wars were the fantasy of only crazy white supremacists chanting RaHoWa.  Now it seems like the loudest voices of racial separation are Progressives.
I am horrified by this.  I just don't know how we can stop it.