I saw a picture yesterday in the wake of the news of the Law Vegas shooting and it just pissed me the fuck off.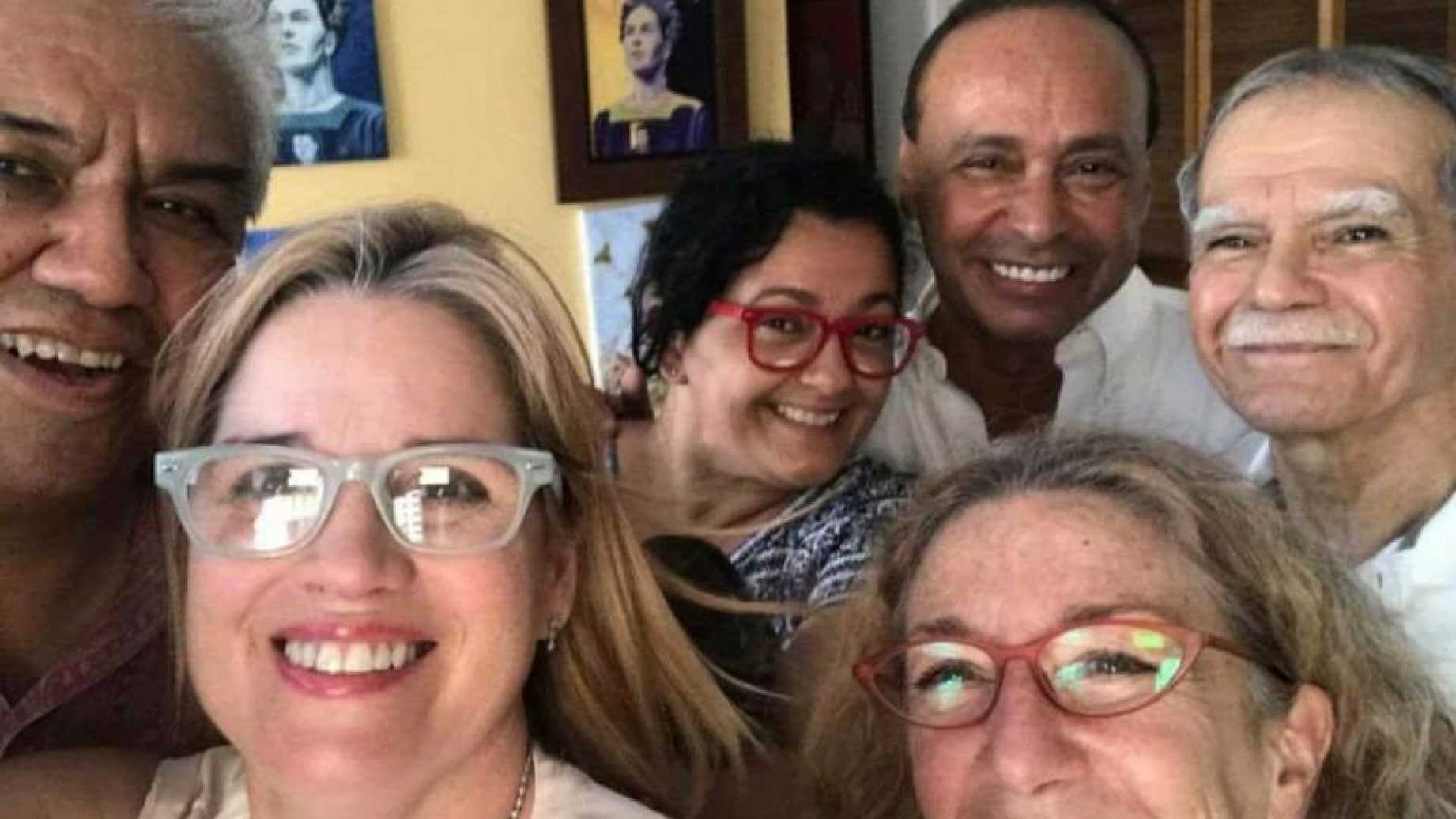 It came from an article in a Puerto Rican newspaper.
The man with the gray mustache is Oscar Lopez Rivera.  The man with the shit-eating grin to his left is Illinois Congressman Luiz Gutierrez.
If that is not enough for you, there are several other pictures of Gutierrez palling around with Rivera on Gutierrez's official Congressional website.
Let's recap who Oscar Lopez Rivera is.  According to the Chicago Tribune:
During the 1970s, Lopez Rivera headed a Chicago-based cell of the Armed Forces of National Liberation (FALN), which waged a futile but violent struggle to win Puerto Rican independence.
The FALN claimed responsibility for more than 120 bombings between 1974 and 1983 in a wave of senseless destruction that killed six and injured dozens. In 1981, a federal court in Chicago sentenced Lopez Rivera, then 37, to 55 years for seditious conspiracy, armed robbery, interstate transportation of firearms and conspiracy to transport explosives with intent to destroy government property.
Notably, the seditious-conspiracy charge was not some "thought crime," as Lopez Rivera's lawyer has said: The indictment listed 28 Chicago-area bombings, some of which caused injuries, as "overt acts" in support of the conspiracy. 
FBI agents discovered dynamite, detonators and firearms at two residences occupied by Lopez Rivera. At trial, a cooperating witness from the FALN testified that Lopez Rivera personally trained him in bomb-making. 
So Lopez Rivera is neither a low-level offender nor a nonviolent one. Nor, crucially, is he repentant. 
He defiantly challenged the legitimacy of the court that tried him. Shortly after entering federal prison at Leavenworth, Kan., he and FALN members on the outside hatched an escape plan; the FBI foiled it by arresting Lopez Rivera's would-be helpers, who were armed with guns and explosives. A conviction for that escape attempt added 15 years to his sentence.
Oscar Lopez Rivera is a terrorist who targeted civilians in a multi year insurgency war against the United States of America.  Even Politico had the balls to call him a terrorist: "Why Did Obama Free This Terrorist?  Oscar Lopez was one of the most violent extremists of his time. The fact that Obama commuted his sentence doesn't speak well of U.S. politics."
This is a man US Congressman Luis Gutierrez said "is like George Washington" and has been taking selfies with.
Rivera was to be honored in the NYC Puerto Rican day parade until sponsors started to drop the parade and faced with a financial issue de Blasio ordered a change of course.  Rivera still marched in the parade, to a hero's welcome, but wasn't officially honored.
On the subject of FALN terrorism and Democrats, President Bill Clinton gave clemency to 16 FALN terrorists at the end of his presidency in 1999.
Back to Obama era pardons, a big hoopla was made when President Barack Obama commuted the sentence of Bradley Manning.
Manning – that treasonous fucking tranny –  was "convicted of multiple other counts, including violations of the Espionage Act, for copying and disseminating classified military field reports, State Department cables, and assessments of detainees held at Guantanamo Bay, Cuba."  Manning was a spy against the United States.
Simply commuting the sentence of Manning wasn't enough.  He had to be turned into a God damned (and I mean that in every way- I hope Manning burns in hell) folk hero to the Left.
He was given a full Annie Leibovitz spread in Vogue Magazine.
He was offered a Fellowship at Harvard Kennedy School of Government until a massive backlash forced Harvard to rescind the Fellowship but still allow him to teach.
He was given honors at the NYC annual gay pride parade and has become a hero to the trans community.
He has spent the rest of his free time receiving accolades for threatening people and hating America on Twitter.
That last bit makes me want to go out and commit a hate crime and curb stomp some patriotism into and teeth out of some  LGBT snowflake fruitcake.  "Let's make a convicted traitor the poster boy of our movement" is not the way to gain acceptance with Middle America.
The Hill had to admit that the political career of Barack Obama was launched by Bill Ayers.  Ayers was a professor at the University of Illinois at Chicago.  He was also an unrepentant central figure in the Weather Underground, a radical Leftist terrorist group responsible for a series of bombings in the 1970's.
Bill Clinton, here again, pardoned a member of the Weather Underground during his presidency.
Here is the fucking point of all this:
THE LEFT IN AMERICA LOVES TO PALL AROUND WITH DOMESTIC TERRORISTS AND TRAITORS WHO ACTIVELY ENGAGED IN INSURRECTION AGAINST THE UNITED STATES OF AMERICA.  THEY USE EVERY OPPORTUNITY TO HONOR AND HEAP PRAISE, MONEY, AND SOCIAL STATUS ONTO PEOPLE WHO KILLED AMERICANS AND UNDERMINED OUR NATIONAL SECURITY.
LOOK HOW FAST THEY BENT OVER BACKWARDS TO CALL THE Ft. HOOD TERRORIST ATTACK "WORKPLACE VIOLENCE" OR EXCUSE THE MOTIVATION OF THE SHOOTING OF CONGRESSMAN STEVE SCALISE, THAT IS WHEN THEY WEREN'T CELEBRATING IT.
THE LEFT HAS PRAISED AND EXCUSED ANTIFA UP AND DOWN.
THE LEFT IN AMERICA LOVES ANTI-AMERICAN TERRORISTS.
THE LEFT TRIES AS HARD AS IT CAN TO AVOID CALLING TERRORISM TERRORISM WHENEVER POSSIBLE.
BUT WHEN SOME FUCKING NUTJOB GOES ON A KILLING SPREE, THEY ARE THE FIRST TO CALL THE NRA AND LAW ABIDING GUN OWNERS A DOMESTIC TERRORIST ORGANIZATION/TERRORISTS.
FOR THESE EVIL FUCKS, THE NATION'S OLDEST CIVIL RIGHT GROUP, WHICH OBEYS EVERY LAW AND USES ELECTIONS AND THE COURT SYSTEM TO AFFECT CHANGE IN ACCORDANCE WITH THE CONSTITUTION IS A "TERRORIST" GROUP BUT SPIES, TRAITORS, AND BOMBERS ARE NOT.
FUCK THESE PEOPLE.  AS LONG AS THEY ARE PALLING AROUND WITH REAL FUCKING TERRORISTS I DON'T WANT TO HEAR SHIT ABOUT THE NRA AND DOMESTIC TERRORISM.  THESE FUCKERS WOULDN'T RECOGNIZE REAL DOMESTIC TERRORISM EVEN IF SOME SOCIALIST REVOLUTIONARY'S HOME MADE  PIPE BOMB BLEW THEIR FUCKING LEGS OFF.  
GOD DAMN THESE FUCKING LEFTISTS TO HELL.  THE NRA AND LAWFUL GUN OWNERS ARE NOT TERRORISTS BECAUSE WE VALUE OUR CIVIL RIGHTS.  THEIR HEROES WHO BLEW UP COPS ARE.  
IT IS TIME YOU SHUT YOUR STUPID, TREASONOUS, FUCKING LIE HOLES ABOUT THE NRA BEING TERRORISTS BEFORE WE HAVE HAD ENOUGH AND SHUT THEM FOR YOU.  
FUCK OFF YOU TERRORIST LOVING FUCKING SCUM.