I have a feeling that Campus Nazis is going to be a recurring post for a while.
Today's episode comes from The University of Utah, where protesters wanted to block Ben Shapiro from speaking.
It was pretty stereotypical, with stupid chants, Antifa flags, and kids dressed in all black with their faces covered.
There were two interesting things I noticed in this video.
First, as these kids win on campuses with administrators failing to control the situation, they are becoming more emboldened to say what they actually mean.
You heard that right, the Constitution is not a relevant document.
Not just are these people tyrannical, they are the worst form of tyranny.  They are capricious dictators, there is no fundamental law except what whim they have today, and we all see how fast that changes and how they turn on each other.
The other thing I notices was their leader.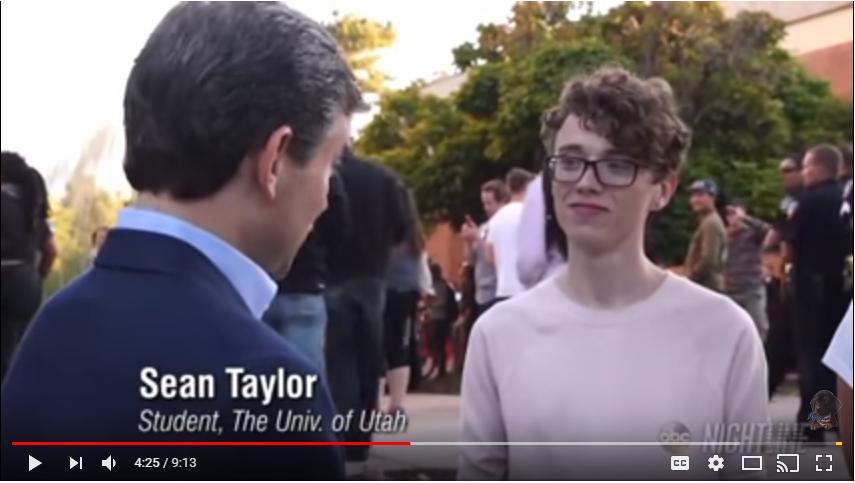 This skinny, gender neutral, pantywaist with his smug grin, nerd glasses, pink sweater, and earring.
This is the leader of the #Resistance.
This is what school administrators are afraid of, and it shows what kind of spineless, gutless, dickless, chicken-shit cowards they are.
These kids win on their campus and so they think they are winning in America.
I want to see this waifish twink actually lead his #Resistance against a bunch of Alabama good-ol-boys, or South Dakota ranchers.  The people that I lived and worked with who put in 40 hours a week of back breaking hard work then go out in freezing conditions to hunt on the weekend.
Guys, who when they say "picked up a tranny this weekend" aren't virtue signaling about their gender non-discriminatory dating preferences, but mean actually lifting a couple of hundred pounds of gears and clutch pack into and out of the bed of a truck.
These people have no idea what is waiting for them outside of their bubble.
If they try to bring this into the real world, the real world will slam into them like a freight train.