Slate: White people support Trump because they are racist.
The Nation: White people voted for Trump because they are racist.
The Atlantic: White working class people voted for Trump because of their racist culture.
White Supremacists: Diversity is just code for anti-white. 
Democratic National Committee: Straight white males need not apply.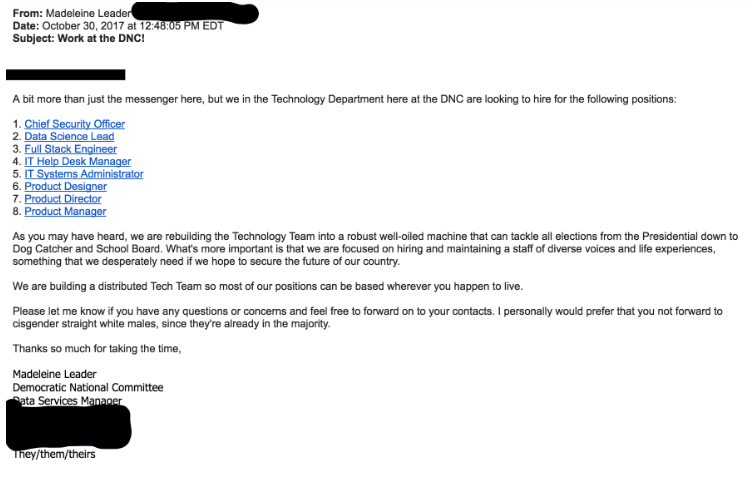 Just about half of all computer science majors are white guys, but fuck them.  The DNC doesn't have time for them.  It's not like they are people too, who went to college, have student loans and expenses, need jobs, and want to work.  They are "already in the majority" so why should they ever be considered for a job?
It's like these people are going out of their way to prove every paranoid, white supremacist conspiracy theory right.
Progressives: "We want the Confederate statues torn down, they are monuments to racism."
White Nationalists: "That's our heritage, where is it going to stop?  First it's Lee next it will be Washington."
Progressives: "Don't be paranoid."
24 hour later
Progressives: "Hold my beer, Abe and George are coming down."
It only seems to be getting worse.
White Supremacists: "Its time for a race war.  RaHoWa!"
Progressives: "You want to put that on the calendar for November 4th?"
Dear sweet lord, please make them stop.
I'd say if they were interested in winning elections, they are their own worst enemies; but with this attitude they are every decent person's worst enemies.