Stole a post from Greg Ellifritz from Active Response Training.
After taking my gazillionth shoplifting report tonight, I think I'll share a trend that most of you may not know about….
A lot of heroin addicts are professional shoplifters. They aren't stealing food for themselves, they steal items to sell to "mom-and-pop" corner grocery stores or immigrant-owned convenience marts in the ghetto. These small store owners pay the addicts 50% of the selling price of the items they steal. The addicts run a cart load of groceries out of a store, sell them at the quickie-mart in the hood and then have dope money for a week.
The item that is most in demand is the Tide brand "POD" laundry detergent packs. These are single serving packages of laundry detergent. They come in bottles that have 20-50 little "pods" that each do a single load of laundry. In the hood, the 24 pack of pods you get at the grocery store is broken down into singles and sold for a higher profit to clueless customers who either can't do math or don't have enough money to spend on a full gallon of laundry detergent.
I would guess that 75% of our large shoplifting heists over the past few years have involved Tide Pods. My guy tonight stole four bottles of pods and two cases of beer.
So think about this, if each bottle of pods is roughly 50 loads of laundry, how many bottles would the average consumer buy at the grocery store? Unless there is a great sale and the person is stocking up, the answer is "one."
Keep an eye out while you are doing your grocery shopping. When you see a person loading a whole shopping cart full of laundry pods, stay away. It's a good bet the person is about to make a run out the door with his cart full of loot.
If given the chance, he'll steal your purse, wallet, or car too. Be alert. Watch out for the people with a whole bunch of laundry pods in their carts.
A quick check on our local Craiglist gave results. Now, not saying one thing or the other since we know that site is beyond reproach in its offered commerce and intentions by its users.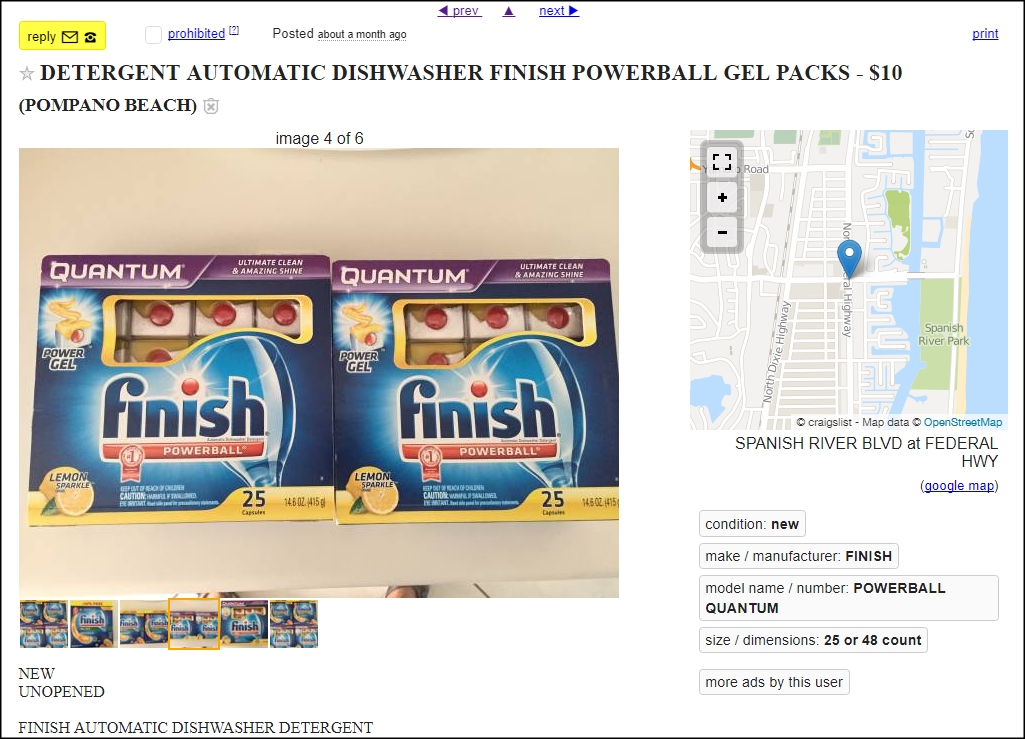 Anyway, it is good to know. I sure as hell was unaware of it. And no, legalizing heroine use is NOT gonna reduce the shoplifting or other drug-related crimes, they will just simply will not be tallied.