The "anti-racism" activist Tim Wise went to Twitter to voice his opinion on the Alabama Senate race.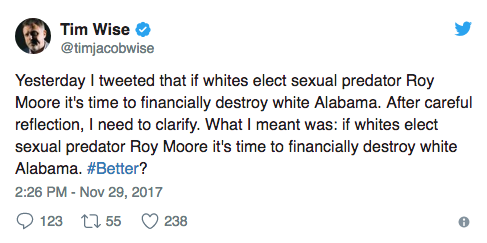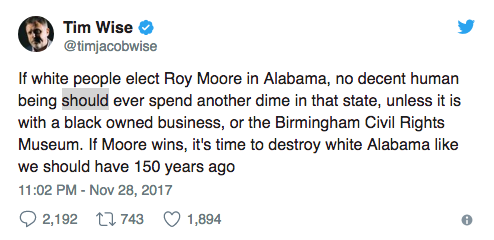 What a stupid, god-damned, fuck – shit he is.
What the fuck does he think white people do in Alabama? Drink moonshine and spray black people with firehoses? Is his knowledge of the Alabama economy any more current than 1865?
From where I am sitting in Alabama, I am within a 20 minute drive of Toyota Motor Manufacturing where most of Toyota's truck and SUV engines are made, Polaris Industries, Boeing, Lockheed-Martin, Remington, Carpenter Technology powder metallurgy products, Raytheon, Cummings Aerospace, KBR, Bodycote, Nucor Steel, and of course NASA Marshall Space Flight Center, and US Army Redstone Arsenal.
If it goes into space, some part of it came out if came out of northern Alabama. If it's s Toyota and not a hybrid, some part of it came out of northern Alabama. If it flies in defense of our nation, some part of it came out of northern Alabama. If it says Marlin, Bushmaster, DPMS, or Remington other than the Model 700 or Shotgun, it came out of northern Alabama.
Is this guy seriously suggesting that all of that be destroyed over a Senate election?
Can all of that be destroyed by one sniveling, self-hating, SJW dipshit organizing a boycott on Twitter?
I get that Roy Moore sucks. Ignoring the allegations of sexual misconduct, he's the type of grandstanding anti establishment figure that gives anti establishment types a bad name.
Doug Jones is a cookie cutter Democrat who could be from California or New England as easily as Alabama.
It's a shitty choice.
Wise wants to destroy the livelihoods of hundreds of thousands of people, cripple this nation's aerospace industry, and hold back defense and space exploration over it.
Fuck that guy.