Let's remember our fascist history.
In 1919 the Fascist part of Italy formed the  Milizia Volontaria per la Sicurezza Nazionale, which translates to the "Voluntary Militia for National Security."
They were more commonly known as the Camicie Nere, or "Blackshirts," because of the color of their uniforms.
In 1923, they became the volunteer militia of Il Duce, Benito Mussolini.
They were thugs and enforcers who helped maintain Mussolini's rule with the help of "the bludgeon and castor oil*."
*Castor oil forms Ricinoleic acid in the bowel and irritates the digestive track causing it to spasm.  The Blackshirts would force victims to drink large volumes of castor oil, causing horrible, painful diarrhea, possibly resulting in death from dehydration.
United States Congressman from Minnesota, and Deputy Chair of the Democratic National Committee Tweeted this.
At @MoonPalaceBooks and I just found the book that strike fear in the heart of @realDonaldTrump pic.twitter.com/r81nYoeqpL

— Rep. Keith Ellison (@keithellison) January 3, 2018
Once more as a screen capture in case he deletes it.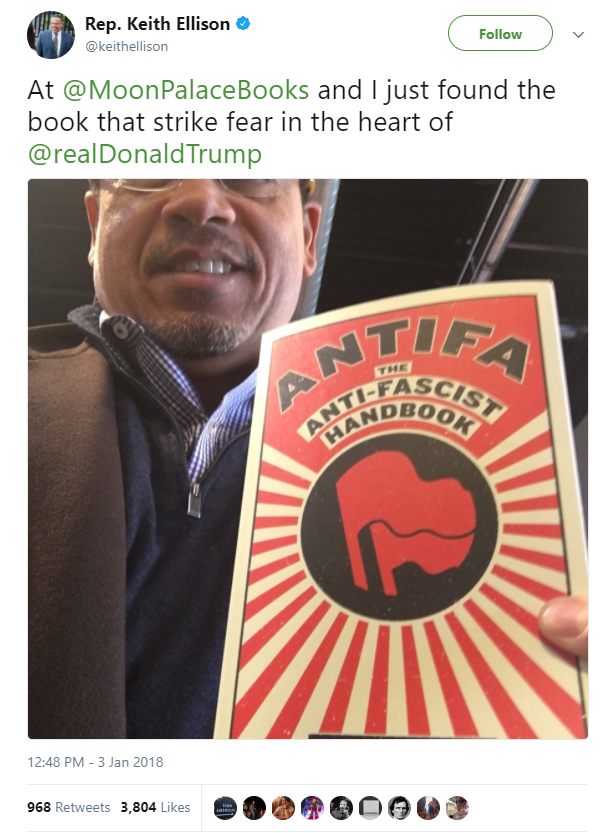 Yes, you read that right.  A sitting US Congressman seemed to endorse Antifa as a threat to President Donald Trump.
Antifa, who commonly take part in the Black Bloc to riot against conservative speakers and got involved in street fight in Charlottesville.
I'm not sure if Congressman Keith Ellison could have been any clearer that he believes that the role of Antifa is the Democrats' Camicie Nere.