I caught Kathy Jackson's excellent post about the Rules of Gun Safety (go read) and for our purposes, I want to share this passage: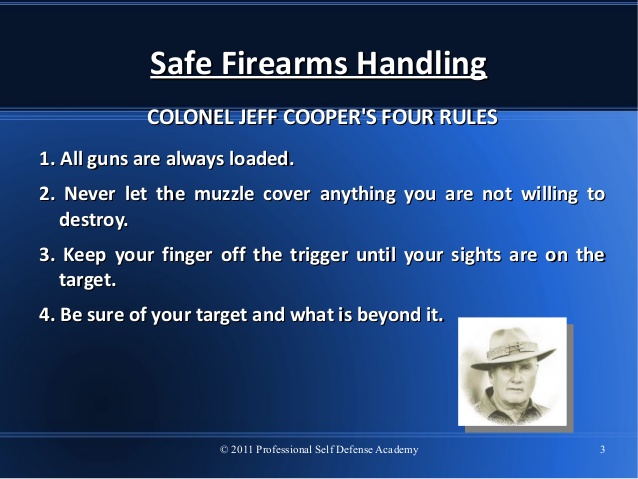 Here's a clue: when you meet an instructor who 'hates' one of the rulesets so much that they cannot even explain that ruleset and what it means, that is someone who does not yet grok the bedrock principles that the most common rulesets all share. (And that's an instructor to avoid, natch.)
Source: Rule Sets | Cornered Cat
The Firearms'  Instructor market is so (apparently) overcrowded that  gimmicks are the marketing tools used the attract clientele. One of those unfortunate gimmicks is to crap on the Four Rules because the instructor is "trendy" (he/she thinks so) and you actually will learn something "new" and not the old shit that died with Col. Cooper.  I don't need to say that Safety, just like a traditional-cut tuxedo, never goes out of style.
This reminds me about 8-10 years ago when i actually heard some people discussing that the aggressiveness of piranhas was just a myth. Some of the reasons they gave was seeing the fishies themselves in fish tanks and aquariums where the owners would stick their hands without fear.  It was not my conversation and I doubted very much that any of the deniers would ever cross a South American tropical river so I left them to their delusions.
We have plenty of video and pictures of the consequences of people not respecting the Gun Safety Rules, yet somehow some idiot will come along and preach against them and he will get equally stupid acolytes because it is cool and trendy and so different from all other instructors.
And then reality will come and bite them in the ass…

I have seen this in real life with an old cow carcass. It was in a cattle ranch and they had to move a herd to a different location to have it branded & vaccinated so they gave the Caribes (as they are called in Venezuela in honor of the former cannibal indians that populated the Caribbean basin) something to feed and distract them while the herd crossed the river well away.
And if you are gonna complain that you have seen piranhas in fish tanks that are not aggressive, let me tell you why: They are well fed and probably gathered in low numbers. Then again you can prove me wrong and go swim in the river shown in the video.
To summarize: Don't be a trendy douche, respect the Rules of Gun Safety.